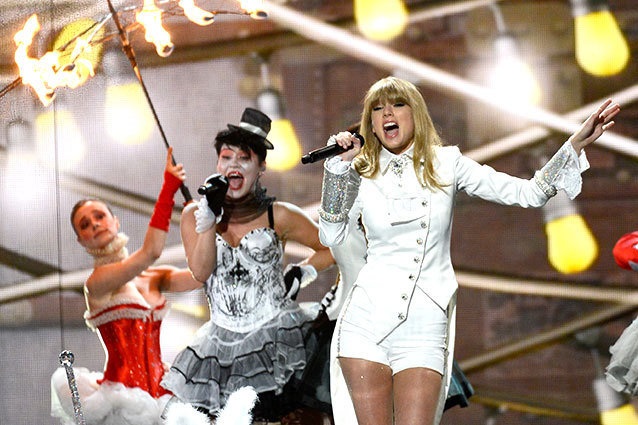 There was a time when artistic experimentation was used to break barriers, to yield new perspectives, to teach, to provoke, to inspire. Some could argue that today's artists still go above and beyond "the norm" with unusual spectacles in an effort to open new doors in their respective media — others, however, would say that these phonies are just bonkers. Such is the argument attached to Taylor Swift's opening number at the 55th Annual Grammy Awards ceremony. The 23-year-old singer introduced the awards show with a rendition of her popular song, "We Are Never Ever Getting Back Together."
RELATED: 2013 Grammy Awards: See the Winners List Here
The brow-cocking performance involved a slew of unique elements: acrobatic clowns (and we're talking full-on, pre-Cold War, creepy-as-hell clowns), overgrown rabbit-men reminiscent of some uncomfortable hybrid of Donnie Darko and Eyes Wide Shut, miniature penny-farthings circling the stage with quavering stability, and a harried young gentleman strapped against his will to an Austin Powers-style spiral plate… all operating at the whim of Swift herself, donned in an achromatic uniform borrowed from the wardrobe of Dumbo's rodent Ringmaster.
Quite an extraordinary sight indeed. But whether Swift and her cronies pulled off interesting is up for debate. Some might have found creative merit in the singer's bizarre choices — perhaps judging the ordeal not solely on surface value, but based on sheer bravado. However, others (those not panic stricken by an overdose of imagery that would bombard them via childhood nightmares) would have been likely to consider the whole thing embarrassingly tacky.
RELATED: Why the Heck Are All These Grammy Performers Anyway?
Our major question lies with the mentality behind Swift's specific ingredients. Why clowns? Why rabbits? Was there a method to the madness, or were we simply dealt a loony cacophony in the spirit of showmanship? We can't dismiss Swift's efforts just yet, maintaining at least a bit of affection for her effort to break free from the confines of a run-of-the-mill awards show performance. But were we handed all style and no substance? That, much like the identity of the fellow with whom Swift will never, ever, ever, ever be getting back together, is still quite officially a mystery.
What did you think about the performance? Sound off in the comments section and let us know!
[Photo Credit: Kevork Djansezian/Getty Images]
---
From Our Partners:

Celebrity Swimsuits Ever (Celebuzz)

Stars: Where Are They Now? (Celebuzz)