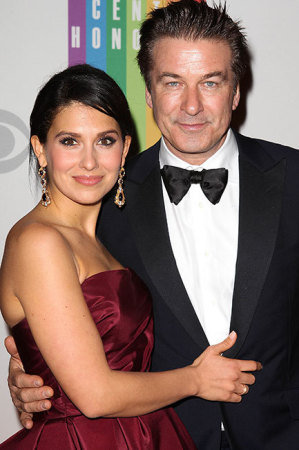 Everything's coming up baby for the cast of 30 Rock in the days following the series finale. First, Tracy Morgan announced that his fiancée Megan Wollover would be expecting their first child this summer. And now we can add Alec Baldwin to the list of former Kabletown employees prepping for diaper duty. Don't waste any time, guys, jeez! A rep for Alec and his new wife Hilaria Thomas Baldwin confirmed the news to Hollywood.com, explaining that they're "so thrilled and we can't wait to meet our baby."
RELATED: '30 Rock' Finale: Why It Was So Hard to Say Goodbye
Of course, the next question is: will it be a boy or a girl? Baldwin already has one daughter (Ireland, 17, from his previous marriage to actress Kim Basinger), so a boy would certainly be a nice addition to his family (he'll be a total Baldwin!). But either way, thanks to his days as Harvard's own "Most," he's already got all the advice he needs for his future baby.
If It's a Girl
Baldwin has plenty of advice for any future little lady: whether she ends up a babe or... a Lemon. "My daughter... I am John Frances Donaghy. I am your father. If you have the blondness and self-esteem of your mother, you will need no advice; life will be easy for you. Otherwise, I'd like to introduce you to... Elizabeth Lemon."
Thank goodness for Liz Lemon, who knows the real priorities for modern ladies: "Good afternoon, let's jump in. Every human has hair on his or her face, some of us just have more. I think it's nice to occasionally splurge on a straight razor shave. If you're running low on laundry a bathing suit makes perfectly acceptable underwear. Bandanas are a fun, sexy fashion accessory."
RELATED: First Pics! See Gisele Bundchen's New Baby Girl
If It's a Boy
If the Baldwins have a boy, however, they're super in-the-clear. Donaghy made a video just for his future son — something that no doubt rings true for any future Baldwin family boys. 
And perhaps the most important, universal life lesson of all, regardless of gender? "Put potato chips on a sandwich!" Wise words from the master of sandwiches herself.
Want to know how the duo found out the happy news? Check out the video below.
Mazels all around for the happy couple!
[Photo Credit: Walter McBride/INFphoto]
Follow Alicia on Twitter @alicialutes
---
From Our Partners:

Pregnant Kate Middleton Bikini Pics Spark Palace Anger (Celebuzz)

50 Steamiest Movie Kisses of All Time (Moviefone)