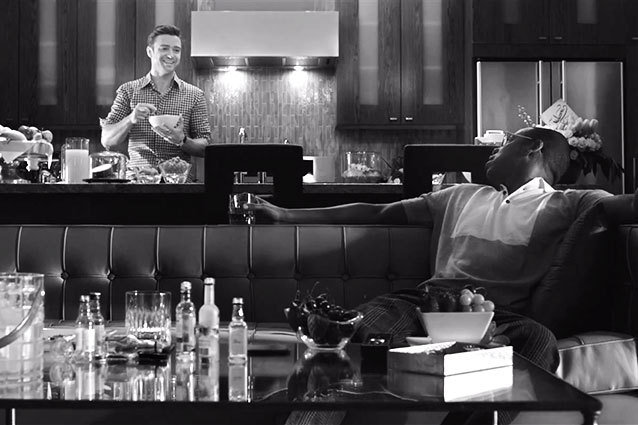 Did you see the Grammys? Do you like David Fincher? Then you'll love Justin Timberlake's new music video for "Suit & Tie," which takes JT's performance from the Grammys and gives it the dark, sinewy feel of a Fincher flick. Except for the part where it's not dark at all, and Jay-Z and Timberlake wind up shooting the breeze and watching the Nets (we're assuming) on TV like two super swell buddy ol' pals.
Those who are convinced "Suit & Tie" is a disappointing first single will probably continue to gripe about this video, but it's swanky, slick, and sexy. Plus, we've got to give JT a hand for at least sticking to a theme throughout his return to music. The guy can pull off that rat pack tux like a regular Dean Martin, okay?
RELATED: Justin and Jay-Z Suit and Tie Up For a Tour?
RELATED: Beyonce Vs. Justin: Who Got More Game?
Follow Kelsea on Twitter @KelseaStahler
[Photo Credit: RCA Records]