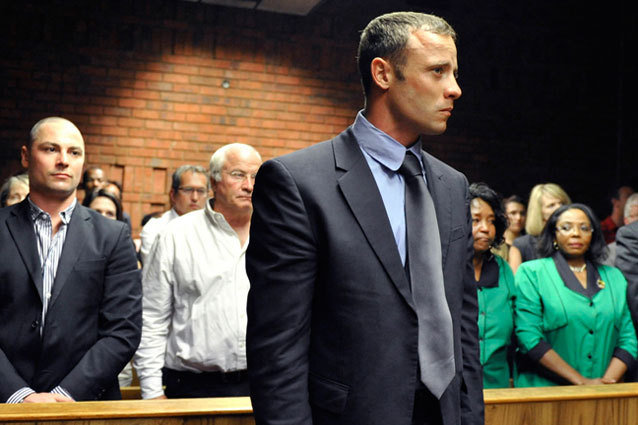 In August, Oscar Pistorius shattered the preconceived notions we held for disabled athletes by becoming the first Paralympian to compete in an Olympic Games. Then, six months later, he shattered the pedestal on which we placed him by allegedly murdering his girlfriend, Reeva Steenkamp. On Tuesday, Pistorius appeared at the Magistrate Court in Pretoria, South Africa in a bail hearing for charges of premeditated murder, a crime that carries a mandatory life sentence. 
As reported by the New York Times, Pistorius said in a sworn affidavit read by his defense lawyer, Barry Roux, "I fail to understand how I could be charged with murder, let alone premeditated. I had no intention to kill my girlfriend. I deny the aforesaid allegation in the strongest terms."
"It filled me with horror and fear," the Associated Press reports Pistorius said in the statement."I am acutely aware of violent crime being committed by intruders entering homes. I have received death threats before. I have also been a victim of violence and of burglaries before. For that reason I kept my firearm, a 9 mm Parabellum, underneath my bed when I went to bed at night."
RELATED: Oscar Pistorius, Olympic Hero, Charged With Murdering Girlfriend
Pistorius continues, "As I did not have my prosthetic legs on and felt extremely vulnerable, I knew I had to protect Reeva and myself." 
Pistorius claims it was not until after he fired that he realized Steenkamp was no longer in their shared bed. At which time he pulled on his prosthetics and tried to kick down the bathroom door, a task that ultimately required the aid of a cricket bat. 
"She died in my arms," Pistorius said. "We were deeply in love and I could not be happier. I know she felt the same way. She had given me a present for Valentine's Day but asked me only to open it the next day."
As is the way of court cases, the prosecution has their own version of events. Led by Gerrie Nel, the prosecution accuses Pistorius of pulling on his prosthetic legs and walking approximately 20 feet to from his bedroom to the bathroom before he fired four rounds into the locked door — three of which hit Steenkamp — with the sole intention of killing his girlfriend.  
RELATED: Reeva Steenkamp's Reality Show Will Still Air, But No One's Shocked
While Roux maintains, "All we really know is [Steenkamp] locked herself behind the toilet door and she was shot," according to the New York Times, Nel thinks this is enough. "She locked the door for a purpose. We will get to that purpose," he said.
Nel adds, "If I arm myself, walk a distance and murder a person, that is premeditated. The door is closed. There is no doubt. I walk seven meters and I kill." According to the AP, Nel says, "It is our respectful argument that 'pre-planning' or premeditation do not require months of planning."
Of course, Pistorius' fate is not up to us — a judge (the South African court system does not include juries) will ultimately decide his innocence or guilt. But long before we arrive at a verdict, Pistorius' reputation will have been marred forever — indeed, it already has. For fans, he is no longer a symbol of triumph over adversity, an inspiration, or a hero. In just six months he has gone fallen from our good graces, joining Lance Armstrong, Michael Vick, and Tiger Woods in the land of scorned sports stars. 
RELATED: Do We Need Technology to Break Olympic Records?
Ironically, as Pistorius was gaining fame worldwide, Lance Armstrong was becoming infamous thanks to allegations of doping (to which he has now admitted). Inspired by Armstrong's PR nightmare, Hollywood.com's own Brian Moylan wrote, "We simply can't believe anything we see anymore. Even when we find a hero (or think we do), we can't hold on to him (or her) for long. The only thing that's real anymore is our longing for something that is authentic – and that's because no one is giving it to us." 
Of course, Pistorius isn't in quite the same boat as Armstrong — on the one hand, his athletic triumph is still intact: he didn't knowingly dupe the public or cheat in his impressive athletic feats. Of course, the charges Pistrorius faces are much more severe than Armstrong's, and, if true, much more horrific. But the way the public feels is much the same. Once again, we find we put our hopes and dreams in a man who has let us down. Now that Pistorius is behind bars, we can never view him in a light of pure admiration. In the days and weeks that follow, and Pistorius' trial continues to make headlines, we will no longer be able to look at him with rose-colored glasses. Those have forever been shattered. 
Follow Abbey on Twitter @AbbeyStone
[Photo Credit: AP Photo]
---
From Our Partners:

Bradley Cooper Dancing Is Surprisingly Awkward, Sweaty (Vh1)

Kate Upton Bares All in Nothing But Body Paint: Video (Celebuzz)