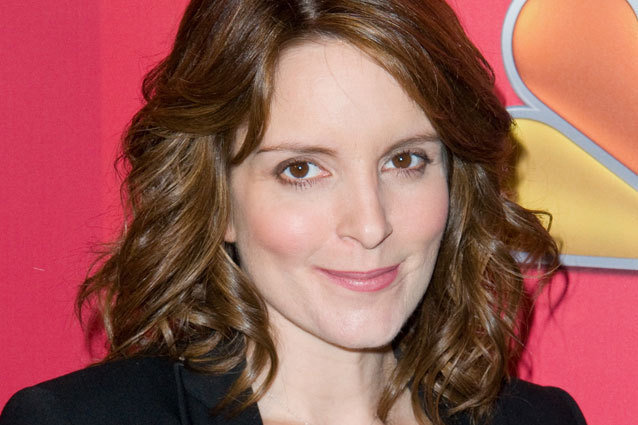 Hey Taylor Swift: You might be mad about a mild punchline from more than a month ago, but Tina Fey — and her close friend and former Saturday Night Live costar Rachel Dratch — have something to tell you.
"It was a just joke," Fey tells Hollywood.com of her teensy jab at the singer during the Golden Globes ceremony. "I think it was a very benign joke," Fey tells us — and a small group of reporters — at the red carpet premiere of her new movie, Admission, in New York City on Tuesday night.
RELATED: Amy Poehler Responds to Taylor Swift
In Swift's just-released interview with Vanity Fair, the emotional and extremely vocal singer admitted she was not too pleased with Globes hosts Fey and Amy Poehler. At one point during the broadcast the jokingly "drunk" duo told told Taylor to "stay away" from Michael J. Fox's son lest she write a song about him. In response to the light mocking, the 23-year-old singer used a quote that Katie Couric once told her to express her feelings: "There is a special place in hell for women who don't help other women." Fair, or over-reaction?
Dratch was also up to date on the Swift/Fey/Poehler controversy, and thinks the entire situation appears to be one big overly dramatic misinterpretation. "I don't think Tina meant [the comment] in the way that Taylor took it," Dratch tells Hollywood.com. "I just think Taylor — I'm talking about Taylor like I know her — but she's probably just sick of all of this."
RELATED: Memo to Taylor Swift: You're A Feminist
The actress continues: "I get what she was saying about [how the press] create this persona for her and she's probably really sick of that, and that was probably some lightening rod for her. But I think Tina and Amy were ladies and probably just joking about it."
Poehler has already graciously responded to Swift's Vanity Fair/Dear Diary rant — and it was a beautiful tropical fish moment — so now that both hosts and an SNL alum have presented their two cents can we please move on? That is until Swift inevitably releases her newest song that bashes the "Mean Girls" of Hollywood…
—Reporting by Lindsey DiMattina
Follow Leanne on Twitter @LeanneAguilera
---
From Our Partners:


40 Most Revealing See-Through Red Carpet Looks (Vh1)


15 Stars Share Secrets of their Sex Lives (Celebuzz)