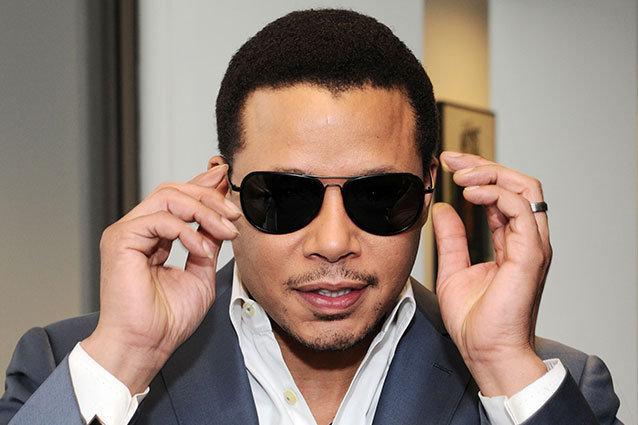 Noted oversharer Terrence Howard was at it again this week during his press tour for the now-in-theaters drama Dead Man Down. In addition to his confession to Hollywood.com that he thinks Iron Man killed his career, the actor also revealed how much he, uh, appreciates new costar Oprah' form: he very much enjoyed being able to "make out with Oprah, to have love scenes with her and those tig ol' bitties." Um, thanks for sharing?
But those two TMI statements are hardly the craziest things the actor has gone on record saying. Don't believe us? Here are seven of the most outlandish, bizarre things Howard has said in recent years:
Biting the hand that fed him
"The worst thing I've witnessed is Iron Man killing my career."
Defending Chris Brown's abuse of Rihanna
"It's just life, man. Chris is a great guy. He'll be alright. And Rihanna knows he loves her, you know? They'll be alright."
Learning music from his grandmother
"She would sit down at the piano and teach me the relationship between A and C and G – why they were best friends, why they would… talk to each other."
RELATED: Terrence Howard is a Fan of Oprah's 'Tig Ol' Bitties'
Loving himself
"I like women who look like me. Generally, you're attracted to women who look like you, because the most beautiful thing in nature is your own reflection."
Why he is against premarital sex
"If a relationship is built on sexuality, it won't last long. Now I'm completely chaste through a relationship unless I get married. I don't believe in premarital sex. It enabled me to date three or four women at the same time, because as long as I wasn't having sex with them, I could always just walk away. There were some [past girlfriends] who pushed for sex, and sometimes they won. Afterward, I would feel unclean, like I'd compromised my own values. So I would have to let them go because they didn't help me to be a stronger person."
On his divorce
"I was in love with her, but she was not in love with me. I can't be upset because she doesn't find me the most beautiful thing on the planet."
Female hygiene
"Toilet paper — and no baby wipes — in the bathroom. If they're using dry paper, they aren't washing all of themselves. It's just unclean. So if I go in a woman's house and see the toilet paper there, I'll explain this. And if she doesn't make the adjustment to baby wipes, I'll know she's not completely clean."
Follow Sydney on Twitter: @SydneyBucksbaum
[Photo Credit: Ilya S. Savenok/Getty Images]
---
From Our Partners:


40 Most Revealing See-Through Red Carpet Looks (Vh1)


15 Stars Share Secrets of their Sex Lives (Celebuzz)