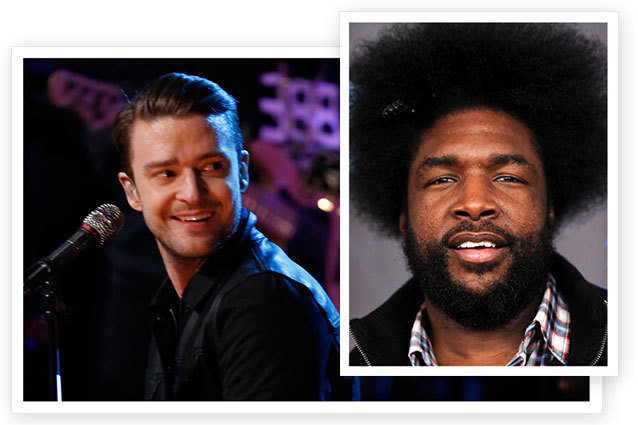 If you believe the good word of Questlove, Justin Timberlake's vision is 20/20 — which is to say that there are another 10 songs soon to grace the aural world thanks to our fair and loyal Timberking! According to a post on the message boards of Okayplayer.com, Questlove spoke about the album's second part, which he says will come out in the second half of 2013. "spoiler alert. 20/20 Vol 2 comes out in nov. (10 songs now.....10 songs later= 20 vision)."
RELATED: Justin Timberlake 'The 20/20 Experience' Shows a Man Grown Up
Sounds like The 20/20 Experience goes further in its already-lofty ambitions than anyone thought. Questlove's commentary comes as a reaction to a review of the LP from The New York Times. He did believe the album was "OVERLY ambitious. like a LOT of ideas crammed into one," and felt a lot of the references and jump-off points could be lost on most of Timberlake's young fan base. While Questlove "love[s] the songs," he was a bit "worried on how [Timberlake would] cut the prime rib to feed to toothless babies," he "admire[d] the balls it took to make this record."
RELATED: Justin Timberlake Has Contracted the Funk on Two New Tracks
Questlove admits that Timberlake was steadfast in his vision, "even if it meant alienating the tweens born after 86" (although Questlove needs to do some math because there is nary a tween that was born in the 80s anymore), and it seems like we'll expect more of the same from the second half of the 20/20 vision. None of this news has been officially confirmed by Timberlake, so it goes without saying this should all be taken with a grain of salt. Hollywood.com has reached out for comment from his rep, but had not heard back at the time of publication.
What do you think of the news that more Timberlake music is heading our way? Let us know in the comments!
Follow Alicia on Twitter @alicialutes
[Photo Credit: NBC, Wireimage]
---
You Might Also Like:


Topanga's Revealing Lingerie Shoot: Hello '90s!


Disney Stars Gone Wild in 'Spring Breakers'