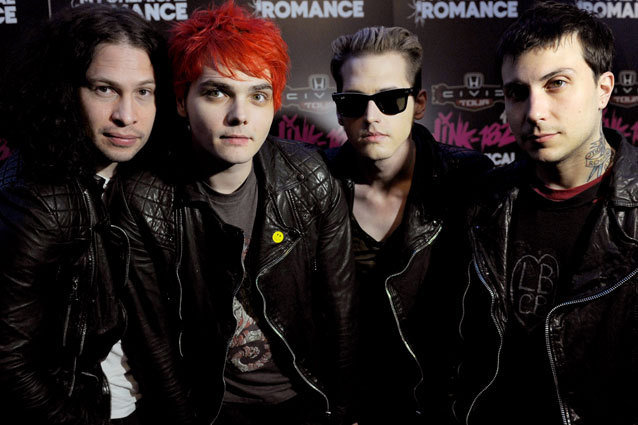 After 12 years and four studio albums, the alt rock band My Chemical Romance is going their separate ways. The announcement came on the band's official website, saying: "Being in this band for the past 12 years has been a true blessing. We've gotten to go places we never knew we would. We've been able to see and experience things we never imagined possible. We've shared the stage with people we admire, people we look up to, and best of all, our friends. And now, like all great things, it has come time for it to end. Thanks for all of your support, and for being part of the adventure."
The band — which consisted of lead vocalist Gerard Way, guitarists Ray Toro and Frank Iero, and bassist Mikey Way — was formed days after the attacks on September 11, 2001. Their 2004 album, Three Cheers for Sweet Revenge, went platinum, but it was 2006's The Black Parade that was their biggest sucess — also going platinum and reaching number 2 on the Billboard 200.
RELATED: Who Wore It Better? Grammys Edition!
Way tweeted about their decision to break up, saying "Beyond any sadness, what I feel the most is pride." He then attached a photo of famed escape artist Harry Houdini — who would have celebrated a birthday on Sunday — in chains from 1915 when he famously hung by his feet above a clock tower in New York's Times Square. The band was a Houdini fan, even referencing him in their song "I'm Not Okay" with the lyrics: "You like D&D, Audrey Hepburn, Fangoria, Harry Houdini and croquet." Perhaps this is Way's way of saying he's not okay?
What do you think about the end of My Chemical Romance? Share your thoughts in the comments section below.
Follow Lisa on Twitter @LisaCostantini.
[Photo Credit: Kevin Winter/Getty Images]
---
You Might Also Like:


15 Oscar-Winning Nude Scenes


Young Jack Black Is Totally Unrecognizable