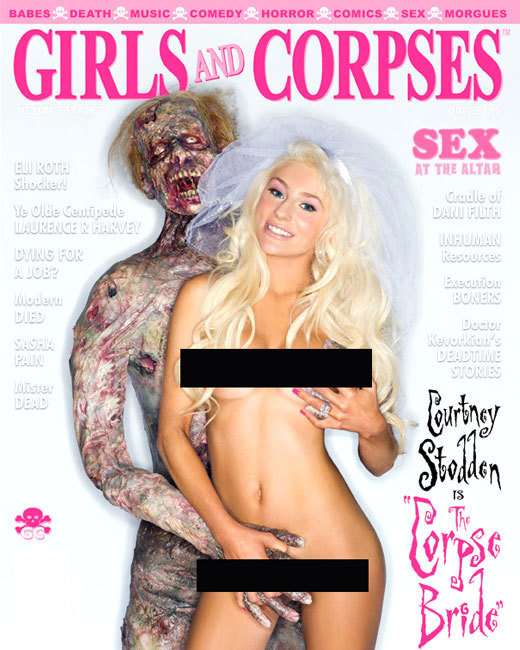 At this point, writing anything about noted teen bride Courtney Stodden is kind of like MadLibs. "Courtney Stodden [verbs] with [noun]! Isn't that crazy?!" Yes, we're aware that we're encouraging her ridiculous behavior by posting her latest publicity-seeking exploit, but this one's too crazy to not share.
Stodden — who, to her credit, does seem to be in on the joke that is her existence — posed nude for a new magazine cover. That's kind of yawn-worthy on the Stodden publicity stunt meter, until you find out that it was for the cover of Girls and Corpses, which, if you are unaware (like the rest of us), is apparently the "world's first comedy magazine about death," and the oh-so-tasteful shot features the 18-year-old wearing nothing but a white wedding veil while being groped by a zombie.
RELATED: Courtney Stodden's Craziest Costumes
The media figure, who is famous because she married 51-year-old actor Doug Hutchison at the tender age of 16, told E! Online she decided to get naked because "Girls and Corpses is a silly, yet sexy magazine, which fits my personality perfectly. That's why I did it."
Of course, Stodden is not immune to the allure of a well-crafted pun (she's only human!), telling E!, "It was definitely interesting, of corpse…hehe."
Follow Jean on Twitter @hijean
[Photo Credit: GirlsandCorpses.com]
---
From Our Partners:


40 Most Revealing See-Through Red Carpet Looks (Vh1)


33 Child Stars: Where Are They Now? (Celebuzz)