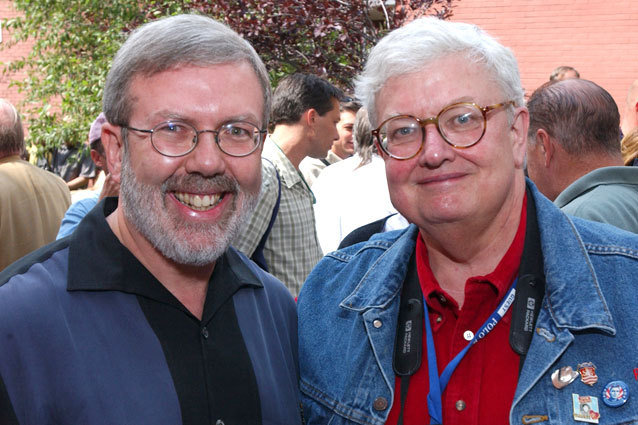 The entire entertainment community is in mourning today, as legendary film critic Roger Ebert passed away after a long battle with cancer. His loss will be felt by millions — including his industry friends, like famed critic Leonard Maltin. "The thing I'm remembering now, most, is his bravery," Maltin says. "It's easy for me to talk about his skill as a writer and a critic, and his impact on our culture and society. But what I'm really thinking about is his incredible bravery, facing one crisis after another. It's incredible."
Maltin is referring not only to the cancer, but the resulting facial surgery that led to Ebert losing his jaw — and with it, the ability to talk, eat, and drink. Still, fans of his work can rest assured that he knew that he was loved. "I'm sure he'd be flattered [by the outpouring of grief]," Maltin says. "He had his share of accolades during his lifetime. I'm glad he knew how people felt about him. I got to know him... like so many other people, through television. I started running into him at festivals and events, but it was only when the Internet made it possible to read his reviews and essays, [that] I really came to appreciate what a thoughtful critic and what a wonderful writer he was."
After sending his best wishes to Ebert's wife Chaz and reiterating what a good person he was, Maltin sent us some of his formal thoughts on Ebert's legacy. See Maltin's entire write-up on his website.
"I'm still in a state of shock over the news of Roger Ebert's death, at age 70, so soon after going public about the recurrence of cancer in his system—and promising to file reviews as often as possible," he says. "That's the Roger Ebert I'm thinking about right now: not the influential critic or the lifelong newspaperman who never missed a deadline, but the guy who faced a staggering series of health crises and refused to give in. He was the bravest person I've ever met. It helped that he had an equally indomitable partner in his devoted wife Chaz; they made a great team."
After reminiscing about Ebert's many accomplishments and setbacks, Maltin concluded the following — that Ebert was a man who simply loved movies, and who would never give up, until the very end. "He never complained, at least publicly, and never lost his enthusiasm for writing," he says. "Instead he embraced the new social media and became a fervent Twitterer, as if to compensate for the loss of his voice by writing even more."
Follow Shaunna on Twitter @HWShaunna
[PHOTO CREDIT: A. Nevader/WireImage]
---
From Our Partners:


40 Most Revealing See-Through Red Carpet Looks (Vh1)


33 Child Stars: Where Are They Now? (Celebuzz)