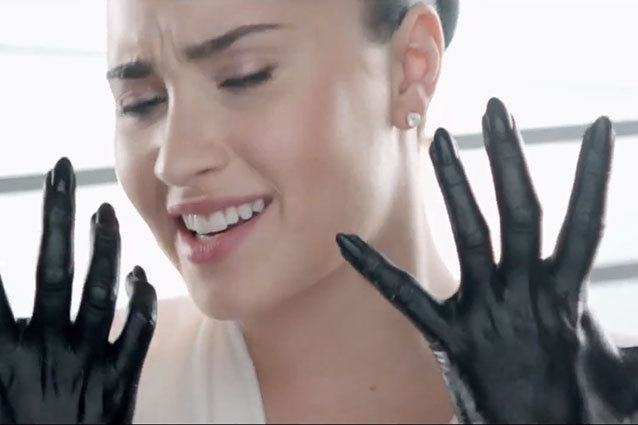 While not quite up to the degree of Taylor Swift, Demi Lovato's love life has taken quite a beating. Between her heartbreaking breakup with Joe Jonas and her on-again, off-again relationship with the much-older Wilmer Valderrama, it's no surprise that Lovato is wary to enter into a relationship — a fact that she sings about in her newest single, "Heart Attack." 
In her own words, Lovato "never said 'yes' to the right guy," yet "never had trouble getting what [she] wants." And she cared so little about her past guys, as Lovato sings, that she would "play 'em like a Ken doll," adding how she "won't wash [her] hair / then make 'em bounce like a basketball." (These lyrics, guys, they really speak to the heart.)
But now, hold onto your hats, because there is a new guy on the scene who makes Demi "wanna act like a girl / Paint [her] nails and wear high heels." Sounds like love. Who doesn't want a boy who inspires you to paint your nails and wear uncomfortable shoes? Lovato knows that the real harbinger of true love is whether he makes you want to take a shower. 
The song's video (below) is just as baffling as the lyrics. Lovato, wearing various low-cut, "edgy" ensembles, takes center stage — more often than not in a tight close-up — for the entire video. And to prove that she's a rock star, Lovato dips her hands in black ink and finger paints on the white walls behind her. 
The video's highlight is Lovato's excellent dramatic lip-syncing. She lip-syncs so intensely that the task becomes one for her whole body — her eyes squint, her nose wrinkles, her shoulders shrug, and her hands do the crazy Christina Aguilera miming-the-scale thing. Girl is invested in her video lip syncing. 
Follow Abbey On Twitter @AbbeyStone
More:
Demi Lovato Will Return to 'X Factor' Season 3  
Demi Lovato Scolds Drug-Loving Contestants on 'X Factor'  
Demi Lovato on the 'X Factor' Twist 
---
From Our Partners:


Eva Longoria Bikinis on Spring Break (Celebuzz)


33 Child Stars: Where Are They Now? (Celebuzz)