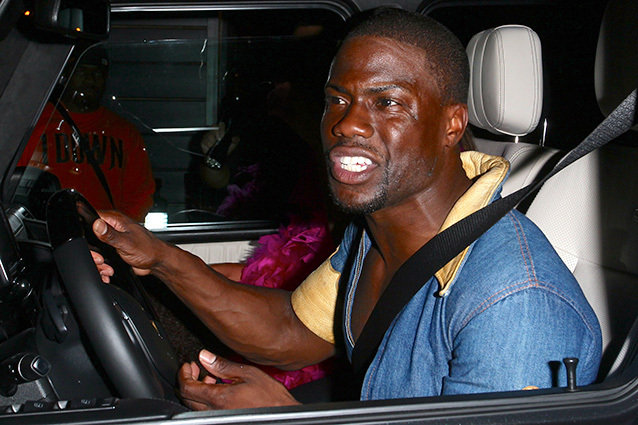 Comedian Kevin Hart was arrested early on the morning of Sunday April 14 for a misdemeanor DUI near Los Angeles. He was pulled over and arrested at 4:51 a.m. after being recorded driving his black Mercedes faster than 90 mph.
California Highway Patrol Officer Ed Jacobs says that Hart "was speeding and driving erratically" and almost hit a gas tanker. Jacobs also confirms that Hart had a female passenger who was sent home in a taxi following his arrest. Hart failed a sobriety test, but was apparently very upfront about the fact that he was intoxicated. After the incident he tweeted, "when the cop asked me to take the sobriety test I said 'WHY WASTE OUR TIME...I'M DRUNK MAN'....#TrueStory."
Despite reports to the contrary, Hart was not released on bond. Jacobs says, "[Hart] was transported and placed in jail," in L.A. However, when people are arrested for DUI in California they are held and released after about six hours or when they are no longer under the influence. "They don't have to bail out on a DUI. They let you go," Jacobs says. Hart was given an initial fine of $5,000, though. He didn't have to pay that to be released from jail, and can pay it at a later date when he makes a court appearance.
Hart got reflective and serious on Twitter when mentioning the incident. "Drinking & driving is not a game or a laughing matter," he tweeted. "People have lost lives because of stupid s***. This is a wake-up call for me. I have to be smarter & last night I wasn't. Everything happens for a reason."
On a lighter note, Hart also said that he completed 6,000 push-ups and 13,000 sit-ups while "in the pin," and he gave a shout-out to his "celly" Mark. "We exchanged war stories LMFAO."
Reporting by Lindsey DiMattina
Follow Christian Blauvelt on Twitter @Ctblauvelt
More:
Why Kevin Hart Is Just What SNL Needs
SNL Recap: That Time We Fell In Like With Kevin Hart
Kevin Hart on Hosting the VMAs
---
From Our Partners:


Eva Longoria Bikinis on Spring Break (Celebuzz)


33 Child Stars: Where Are They Now? (Celebuzz)