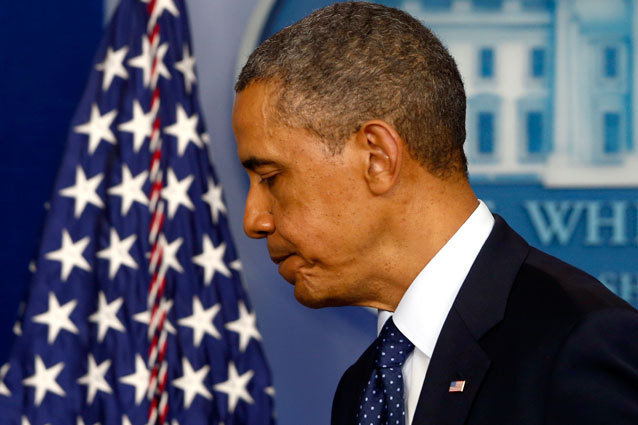 The world watched Monday as the city of Boston responded to two bombs that detonated at the finish line of the Boston Marathon just before 3:00 PM. While early reports claim two people have lost their lives and as many as 100 may be injured, Police Commissioner Ed Davis would only confirm that there were "multiple casualties." 
After assuring Mass. Governor Deval Patrick that Boston will have the FBI's full cooperation, President Obama himself addressed the America people a little past 6:00. 
"The American people will say a prayer for Boston tonight," Obama said. "On days like this there are no Republicans or Democrats. We are Americans concerned for our fellow citizens ... All Americans stand with the people of Boston."
Obama concedes that details of the explosion are still murky, but he stayed strong in his conviction that he will get to the bottom of the blasts. "We still do not know who did this or why. People shouldn't jump to conclusions before we have all the facts," Obama said. "But make no mistake, we will get to the bottom of this.We'll find out who did this, we'll find out why they did this." 
"Any responsible individuals, any responsible groups will feel the full weight of justice," Obama said. 
The president also lauded the bravery of the first repsonders. "It's a reminder that so many Americans serve and sacrifice on our behalf every day," he said. "We salute all those who assisted and responded so quickly and professionally to this tragedy."
Obama then turned his attention to the people of Boston. "Boston is a tough and resilient town," Obama continued. "So are its people. I am supremely confident that Bostonians will pull together, take care of each other and move forward — as one proud city."
To close, Obama promised, "We will find out who did this, and we will hold them accountable."
Watch Obama's address in its entirety below:
More:
Boston Marathon Tragedy: How You Can Help
Boston Celebs React to Boston Marathon Explosions