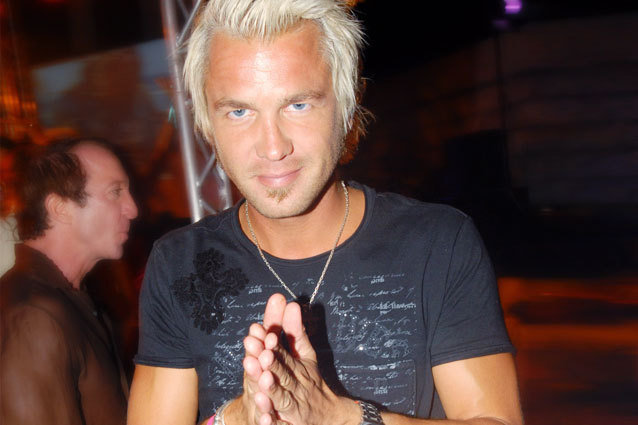 In the wake of the shocking news from an article by Noisey that Ulf Ekberg — a member of the '90s hit-making Swedish pop outfit Ace of Base — was a neo-Nazi in his younger days, the musician is now coming forward to clear the air and apologize for his disturbing past.
Ekberg reportedly had alliances to extreme political groups like the Sweden Democrats and was in a band pre-Ace of Base called Commit Suiside whose song lyrics included the likes of "Immigrant, we hate you! Out, out, out, out! Nordic people, wake up now! Shoot, shoot, shoot, shoot!" (Doesn't have quite the same pleasant ring as, say, "All That She Wants" or "Don't Turn Around"). Some rather damaging photos and accounts of Ekberg's past have also surfaced in the Noisey piece. 
While Ekberg, who is now apparently a Senior Partner and Executive Vice-President at Applied Transactions, had previously expressed his regrets about having seen the sign (that sign being a Swastika) in the documentary Our Story, he wanted to emphasize his feelings even further since the news made headlines to The Huffington Post. It reads as follows: 
"Thank you for the opportunity to respond. During the early 1990s I did dozens of interviews, all around the world, about the people I sometimes found myself surrounded by in the 1980s and how profoundly regretful I am now about associating with such individuals. Those interviews covered every aspect of my past as I strove to be an open book to anyone who asked. It has been twenty years now since I chose to come clean about my past, a decision I made on my own at that time and a decision I do not regret. Every angle of my past was covered there in those interviews. I did have a band called Commit Suicide but we did not write or perform the songs in question on this demo, and I have never been a member of the Swedish Democrats, however the teenage mistakes I did make in terms of my chosen ideas at the time were unfortunate and if I were to live through those days again I would have done things very differently! I'm truly deeply sorry for any hurt and disappointment this has caused for our fans and I want to be very clear that Ace of Base never shared any of these opinions and strongly oppose all extremist opinions on both the right and left wing."
More: 
One of the Ace of Base Guys Was Secretly a Nazi 
Michelle Shock Apologizes For and Explains Homophobic Tirade 
LL Cool J Clarifies His Intentions For 'Accidental Racist' 
---
From Our Partners


50 Worst Celeb Mugshot Fails (vh1)


33 Child Stars: Where Are They Now? (Celebuzz)