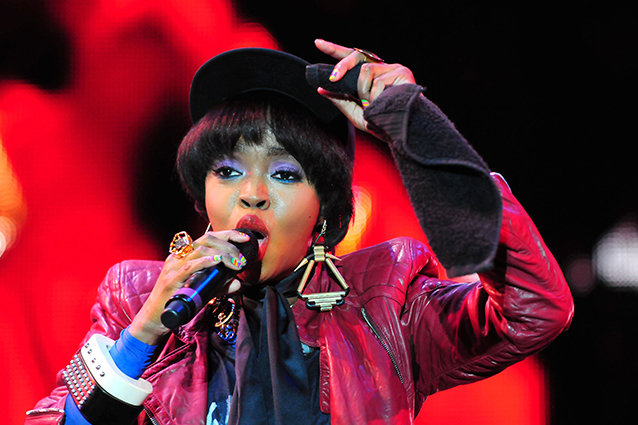 Lauryn Hill confirmed reports she's inked a lucrative new deal with Sony Records to launch her own record label and release new music. But in an open letter to fans on Tumblr, the 37-year-old Grammy winner denied details that had been out in the media, reporting that she'd earn a whopping $1 million for just five songs.
"The nature of my new business venture, as well as the dollar amount reported, was inaccurate, only a portion of the overall deal," she wrote. (She had also taken to Tumblr earlier this week to deny reports she was facing eviction: "I am not squatting," she wrote.)
The singer and mother of six has been plagued by financial and legal troubles for years. Hill pleaded guilty last year to three misdemeanor counts of tax fraud and still owed the government $504,000. She faces up to 36 months in jail, depending on whether she owes less or more than $1 million in civil liability. 
After seeing huge global success with the Fugees and with her legendary 1997 album The Miseducation of Lauryn Hill, Hill went into a self-imposed exile in 2000. She later talked about her struggle to Essence magazine, stating, "I had to confront my fears and master every demonic thought about inferiority, about insecurity or the fear of being black, young and gifted in this western culture."
She's worked on a few collaborations since then and performed at Coachella and New Orleans JazzFest, but hasn't released an album since the '90s. Still, she denies rumors she's releasing new music simply to pay her tax bill: "I have been working towards this for a long time, not just because of my current legal situation, but because I am an artist, I love to create, and I need the proper platform to do so."
Hill is due to be sentenced on May 6 (experts predict that her new Sony deal could keep her from doing jail time). But what do you think, readers: Would you buy a new Lauryn Hill record? Can she still be relevant in the age of Rihanna and Beyoncé?
---
From Our Partners:


Beyonce Flaunts Bikini Bod for H&M (Celebuzz)


33 Child Stars: Where Are They Now? (Celebuzz)