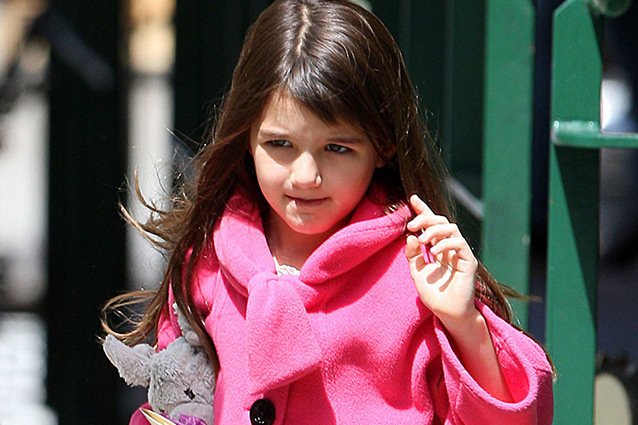 When you hear the name Suri Cruise, a few things come to mind: She's the uber-famous offspring of Katie Holmes and Tom Cruise. "Her" Burn Book takes down other famous kids. She's constant paparazzi fodder. But is she a fashion designer? Come on, the girl is only seven years old!
Suri was rumored to be adding "fashion designer" to her already impressive resume. She was supposed to have signed a deal for her own line named "Suri" in lieu of her own fashion blog, but because the 7-year-old was "talking about specific designs," it was decided she should have her own line instead, including dresses, tops, jeans, shoes, and necklaces.
Thankfully, this fashion line nonsense is completely false, according to Katie Holmes' rep, who spoke to E!.
And we can't help but feel as if a great weight was lifted off our shoulders. There are so many reasons why this line would have been a crazy idea, but we narrowed it down to just five reasons we're thankful it's not a reality.
1. While Suri regularly tops most stylish celebrity child lists, she's only seven years old. That means her mother Holmes is probably the one picking out her outfits for her. But Holmes is already a fashion designer – her line is Holmes & Yang – so this is just redundant.
2. Suri's go-to accessory is a stuffed animal, so will that be her staple piece in all her outfits? Because that's already being sold... at a place called a toy store.
3. Suri is only seven. Can we at least wait until she's in double-digits to launch her own fashion line?
4. The line is being centered around Suri's drawings. We're predicting shirts with pictures of stick figure cats and suns wearing really cool sunglasses. 
5. Again, Suri is seven years old.
We rest our case.
Follow Sydney on Twitter: @SydneyBucksbaum
More:
Amanda Seyfried Is a Glamorous Mystery Lady In Givenchy Commercial
Kate Upton Addresses Fat Comments, Becomes Accidental Role Model
Mariah Carey Makes Sweet Love to Motorcycle in '#Beautiful' Music Video 
---
From Our Partners:


Watch Justin Bieber Attacked in Dubai (Celebuzz)


33 Child Stars: Where Are They Now? (Celebuzz)