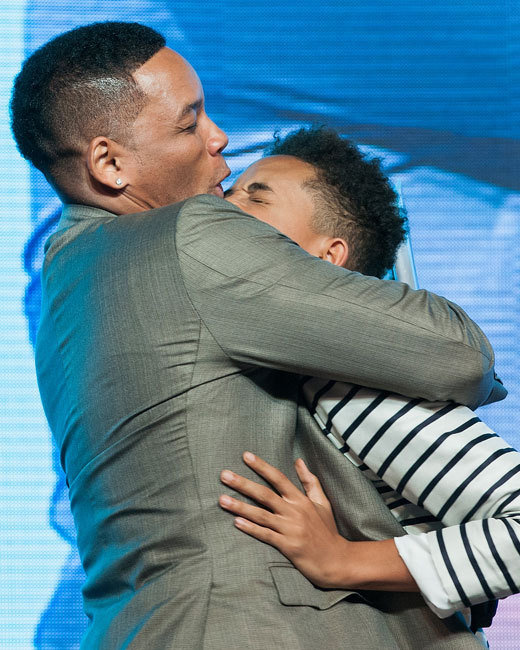 Jaden Smith, spawn of Will Smith and Jada Pinkett Smith, turns 15 on July 8 and wants a whopper of a present: independence. Will Smith tells U.K. newspaper The Sun  that his son wants to be emancipated from his parents. "He says, 'Dad, I want to be emancipated,'" Smith says. "I know if we do this, he can be an emancipated minor, because he really wants to have his own place."
Smith the Elder, notorious for his laissez-faire child-rearing, tells The Sun, "We generally don't believe in punishment … The rule in our house is you can do anything that you want and we don't pull the parent card until danger is involved."  
And in keeping with that philosophy, he seems to be weighing the pros and cons of his son's request. "That's the backlash," he says. "On the other side, if kids just want to have command of their lives, I understand."
Smith may understand, but we don't. In California, the court will only grant minors emancipation if said emancipation is in their "best interest." Minors must also be at least 14 years old, financially independent, and living apart from their parents with parental permission. The latter stipulations seem to fit Smith the Younger's scenario, but arguing that emancipation from Will and Jada would be in Jaden's "best interest" will be a hard sell. California's Coogan Law already ensures that 15% of Jaden's money is put into a trust his parents can't touch and it's clear the Smith parents aren't hindering Jaden's career. 
So what it all comes down to is that Jaden wants a swingin' bachelor pad where he and Justin Bieber can make terrible rap videos. But, as far as we can tell, that doesn't break Smith's danger rule — so why the emancipation?
Follow Abbey On Twitter @AbbeyStone
More:
Jaden Smith Has Baby Legs at 'After Earth' Tokyo Premiere  
We Can't Figure Out Will Smith's Accent in 'After Earth' Trailer
Jaden Smith Looks Like Will in 'After Earth' Poster 
---
From Our Partners:


What Happened to 33 Child Stars (Celebuzz)


40 Most Revealing See-Through Red Carpet Looks (Vh1)