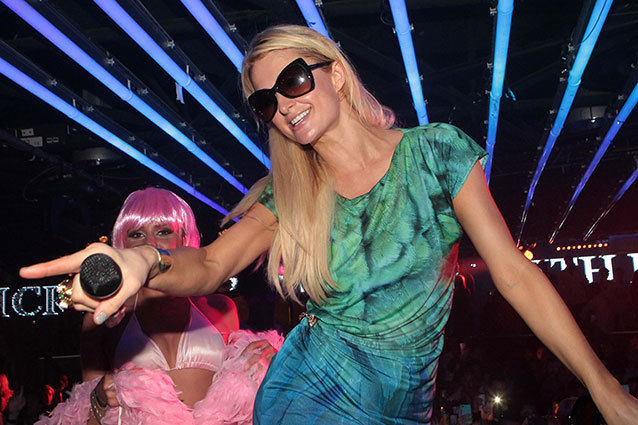 In a desperate attempt to regain her relevancy, 2007's Diva of the Year Paris Hilton signed a record deal with Lil Wayne's Cash Money Records. Birdman, Cash Money's CEO, confirmed the news in a tweet: "Welcome@ParisHilton to tha Family.RichgangRichgirl.YMCMB."
"This is a lot different than my first album," Hilton told Showbiz 411. "It's really going to be house music."
Hilton will be joining Nicki Minaj and Drake at Cash Money, so we're hoping her house album will feature some fresh verses — what ryhmes with "spoiled"?
Needless to say, we aren't the only ones scratching our heads at the news. Here's what the Twitterverse has to say about it:
Just heard Paris Hilton is releasing an album. RIP music (1400 B.C. - 2013†)

— Zedd (@Zedd) May 22, 2013
If Paris Hilton can get a record deal anything in life is possible.

— Young Roach(@ILoveYoungRoach) May 23, 2013
There is no longer a need for the cruciatus curse, Paris Hilton is releasing new music.

— The Dark Lord (@Lord_Voldemort7) May 23, 2013
I'm excited about Paris Hilton's new album. Finally the Death Star has a good enough reason to destroy Earth.

— Darth Vader (@DepressedDarth) May 23, 2013
Paris Hilton has a recording contract. Thousands of brilliant artists do not. Well played, Satan.

— Lou Brutus (@LouBrutus) May 23, 2013

And then... there's this guy:
Don't know what you guys are on about I loved Paris Hilton's first album.

— Archie (@stfuarchie) May 23, 2013
Follow Jordyn on Twitter @Jordynmyah | Follow Hollywood.Com On Twitter @Hollywood_com
More:
Randy Spelling: 'I Took Paris Hilton's Virginity'
Nick Carter: 'I Cheated on Paris Hilton with Ashlee Simpson'
Lil Wayne Tweets He Is 'Good' Despite Reports of Coma — Update
---
From Our Partners


Stars Pose Naked for 'Allure' (Celebuzz)


Which Game of Thrones Actor Looks Least Like His Character? (Vulture)