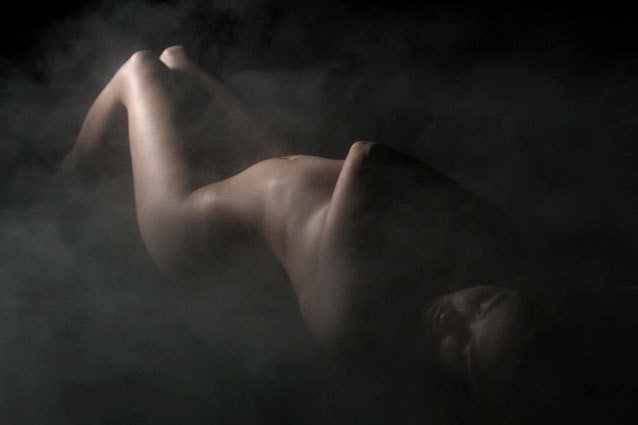 Justin Timberlake is bringing sexy back on a whole new level this time. The music video for his song "Tunnel Vision" hit the web Wednesday in the style of Robin Thicke's "Blurred Lines." 
Timberlake's video features a number of topless women dancing while smoke swirls around them, and occasionally Timberlake's face is projected onto their breasts and sexy backs (yes, I am taking every opportunity to make this pun).
Initially, YouTube took the video down, citing a violation of its policy on nudity and sexual content. The video is now (sexy) back on the site, but viewers must sign in to confirm their age. A YouTube spokesperson issued a statement on how the site handles explicit videos like Timberlake's.
"While our guidelines generally prohibit nudity," said the YouTube rep, "we make exceptions when it is presented in an educational, documentary or artistic context, and take care to add appropriate warnings and age restrictions."
So, after its initial ban, "Tunnel Vision" apparently met the artistic requirements to get (sexy) back online. It was probably all the artsy slow-motion smoke. You can make pretty much anything look artsy when you throw in some smoke.
And, to Timberlake's benefit, he did warn everyone via Twitter that his new video was explicit. Thanks for the heads up, J.T.
"Tunnel Vision" is the third single off The 20/20 Experience, and you can check out all seven minutes of it here. And remember, it's NSFW (there are a lot of sexy backs).
Follow Jordyn on Twitter @jordynmyah | Follow Hollywood.com on Twitter @Hollywood_com
More:
Justin Timberlake's Instagram Spills 'The 20/20 Experience: Part 2' Release Date
Justin Timberlake's 'Mirros' Music Video: We Have Many Questions (and Some Answers)
Justin Timberlake's 'The 20/20 Experience' Shows a Man Grown Up — Review
---
From Our Partners


Stars Pose Naked for 'Allure' (Celebuzz)


20 Grisliest TV Deaths of 2012-2013 (Vulture)