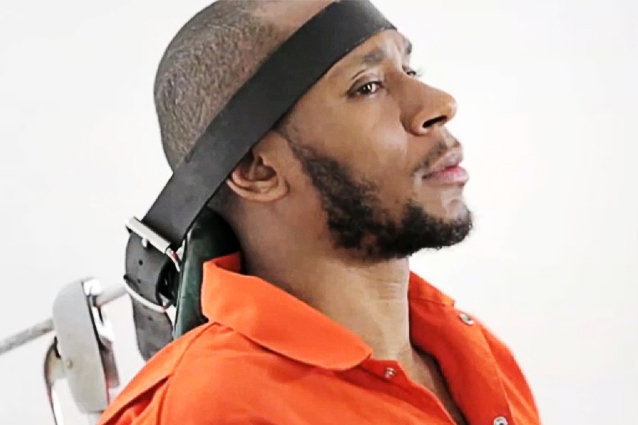 "Hard to watch" doesn't even begin to describe the video of Yasiin Bey (formerly known as rapper Mos Def) being force-fed under standard Guantamo Bay procedure. Directed by BAFTA-winning filmmaker Asif Kapadia, the four-minute clip features the sort of highly disturbing images that will keep you awake for nights on end. And perhaps the most distressing part of the film is that it is only a brief glimpse into the horrific reality faced by Gitmo inmates every day. (Note: Please use your discretion in watching the video below, as the images are graphic and upsetting.)
Currently about 120 detainees at Guantanamo Bay are on hunger strike, and of those 120 protesters, 44 are being force-fed, usually twice a day via a torturous procedure that takes about two hours. In collaboration with a human rights organization called Reprieve, Yasiin Bey volunteered to undergo the same procedure and have it documented in order to raise awareness of the brutal abuses at Gitmo. 
In the above video, we see the rapper and actor in an orange prison jumpsuit as he is strapped to a chair. He then struggles violently as a team pushes a tube up his nose and uses it to pipe food into his body. Bey does not last for the full feeding, breaking down in tears and begging them to stop after the first round.
"I got this burning," he says in the aftermath of the procedure, "And it starts to get really unbearable. It feels like something is going into my brain and reaches the back of my throat, and I really couldn't take it."
It's safe to say that when Bey signed on to make this movie, he had no idea what he was in for. 
Follow Caroline on Twitter @carolinesb | Follow Hollywood.com on Twitter @Hollywood_com
More:
Mos Def Nabs 'Dexter' Role
New 'Dexter' Image With Mos Def Gives Us High Hopes
Mos Def Arrested Afer Video Music Awards 
---
From Our Partners


Stars Pose Naked for 'Allure' (Celebuzz)


20 Grisliest TV Deaths of 2012-2013 (Vulture)