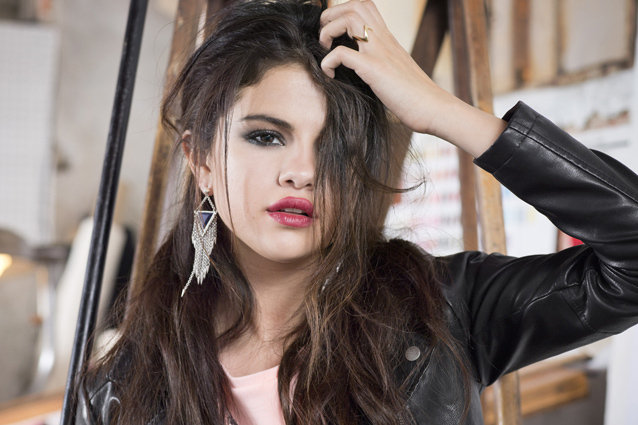 Selena Gomez has officially announced to the world this week that she is ready to ditch the tween scene (or at least to the portion of the world who still hasn't seen Spring Breakers). Between her new album, Stars Dance, which dropped Tuesday, and her 21st birthday on Monday, she seems to have completely crossed the threshold into adulthood.
Growing up in the Disney limelight, Gomez's early career came fully equipped with a cookie-cutter identity and an entrenched fan base made of tweens who did not need to be won over. While Gomez hedged the boundaries of this fandom a little with her first three albums (released under the name Selena Gomez & the Scene), the inevitability of adulthood has never been as clear as it is with Stars Dance.  However, Her ascent into the real world seems to have thus far left her in an identity crisis: how can she be both the wholesome girl next door and the sexpot?
The first song of the album, "Birthday," is an upbeat party song that sounds the most like a grown-up version of her old sound. But she misses the opportunity to use this song to refine her pop star identity. The accompanying music video, a PG Spring Breakers, has no artistic direction whatsoever. The entirety of the video consists of a bunch of people in a room lip-syncing during what seems to be a mediocre 21st birthday party.  The most salacious part of the video is the naked mannequin.  This is drastically different from her Disney counterpart, Miley Cyrus, and her  video for "We Can't Stop." Despite its absurdities and "symbolic" gems, Cyrus' video at least makes you want/be scared of whatever she's on. Miley Cyrus has made it quite clear that she wants to be the resident badass of her Disney graduating class. Gomez seems much more timid about having an overtly sexual image, despite having songs like "Come Get It" on the album.
But Gomez needs to understand that she can't hold on to her younger fans from her days on Wizards of Waverley Place and simultaneously gain a more mature audience by starring in movies like Spring Breakers. Ignoring the blatant Rihanna impression in the song "Like A Champion" (I just can't with the fake Jamaican accent), and mismatched incorporation of dub step sprinkled throughout the album, Stars Dance is not too shabby. And we mean "not too shabby" for anyone, not a Disney transplant. It's time for Selena to own it. 
Follow hollywood.com on Twitter @hollywood_com
More:
Selena Gomez Gets Sultry in Leaked 'Slow Down' Music Video 
Selena Gomez Has A New Baby Sister 
Snoop Lion And Miley Cyrus Collaborate on New Song
---
From Our Partners


Battle of the Bikini Bodies (Celebuzz)


Complete Guide to Strippers in Movies and TV (Vh1)