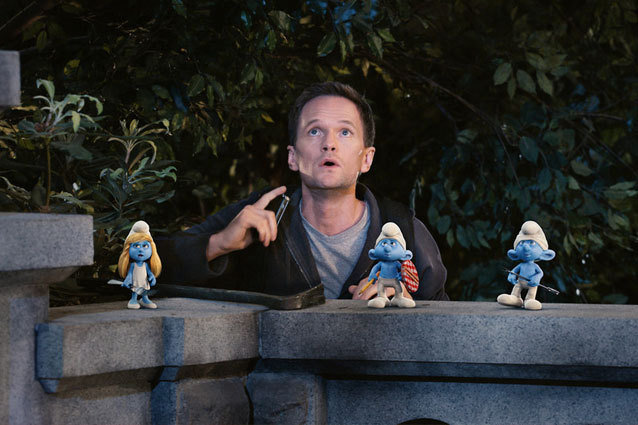 Sony Pictures
Half the fun of animated movies these days, especially in a movie that is as little fun as Smurfs 2, is figuring out who voices all the characters. While I understand why celebrities love to be in Studio Ghibli and Pixar movies, why someone, especially a very rich and famous someone, would choose to be in a movie featuring the line "I'm just smurfin' with ya," is beyond me. Here are a few excuses from celebs, both voice and live-action actors, who should have known better.
Paul Reubens AKA Pee-wee Herman thinks that there's a hidden darkness to his character.
"I have one line as a Smurf. I think somebody went, 'What happened to Jokey Smurf?' and they went, 'Oh, my god!' and wrote a line.  But, I just did the sequel, and I only have one line again.  I feel like I should lay down to be talking about this, but the only thing I can figure out is that Jokey Smurf has a bomb. That's his thing. He's got a gift with a bomb, and maybe they're thinking that shouldn't play with kids, so they cut him out."  
Katy Perry wasn't allowed to watch The Smurfs growing up.
"I grew up in a very religious household and so a lot of things were monitored. Some things were allowed but Madonna was always taboo and so were The Smurfs. Growing up, there was never anything wrong with The Smurfs per se; my parents were just very particular about television. But I think there are a lot of incredible family values to learn from these types of films and especially this one."
Alan Cumming was excited to bring some Scottish lingo into mainstream animation.
"Well, I mean, I really liked the fact that I brought that word, 'numpty' back. It felt great, hitherto unknown to most of the world. A word not used that often in Scotland anymore, actually. It's going to be bounced back into the common parlance. That makes me happy. I think that [his character Gutsy], there's a Scottish voice, it's very strong and saves the day."
Neil Patrick Harris wanted people to know that Smurfs 2 would be better than its predecessor. 
"From all accounts, the second film is a better film than the first one...Family's important and this movie touches upon the definition of family to each person."
The Office co-star B.J. Novak did not exactly have his heart set on playing Baker Smurf.
"Here's what happened. I heard they were doing a Smurfs movie. I was very excited. I love the Smurfs. I originally wanted to write the Smurfs movie...so I contacted them...they said, well we actually already have a writer. So I said, all right, if there's any chance I could be a Smurf that would be great. And about six months later they called me and said "we have Baker Smurf for you." I'm like, ok, at least it's a Smurf...with a trade as opposed to a personality trait."
Follow @Hollywood_com
More:
'The Smurfs 2' Is Essentially 'Spring Breakers'
Neil Patrick Harris Will Host The 2013 Emmys
Lady Gaga vs. Katy Perry 
---
From Our Partners:


40 Most Revealing See-Through Red Carpet Looks (Vh1)


15 Stars Share Secrets of their Sex Lives (Celebuzz)