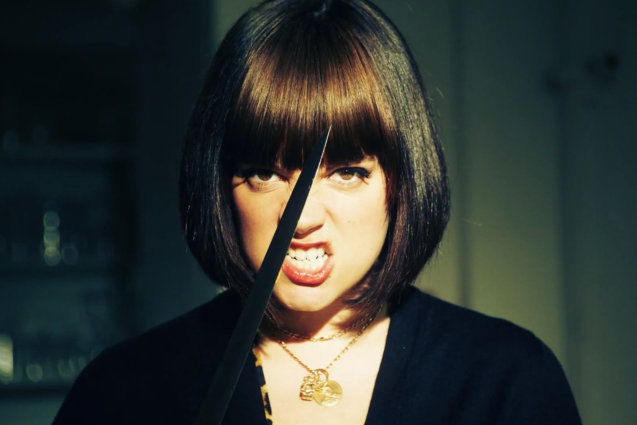 Youtube
Seemingly devoid of the filter that makes most media-trained pop stars mind-numbingly inoffensive, Lily Allen became renowned just as much for her motormouth as her distinctive brand of confessional pop before she 'retired' from the music industry in 2010. Her many rivals may have enjoyed several years of respite from her vicious tongue. But they should now be gearing themselves up for some more home truths after the 28-year-old confirmed her comeback with the launch of a new official website last month. Here's a look at Lily at her 'keeping it real' best.
The Pussycat Dolls were one of the first major names to feel the wrath of Lily Allen in a blatant case of pot calling the kettle black in 2006:
"I've got a really big problem with the Pussycat Dolls, because I think they're a really bad role model for little girls...they're too skinny, take all their clothes off, don't say anything, promote womanising and look like lapdancers as far as I'm concerned."
Having recorded an ironic tribute to Cheryl Cole for the B-side to debut single "Smile," Allen then retaliated in typically brutal fashion after the Girls Aloud star described her as a "chick with a d**k."
"Cheryl, if you're reading this, I may not be as pretty as you, but at least I write and sing my own songs without the aid of Auto-Tune. I must say, taking your clothes off, doing sexy dancing and marrying a rich footballer must be very gratifying, your mother must be so proud, stupid b**ch."
Grime artist Lady Sovereign found herself on the receiving end of Lily's fury in 2007 after claiming that she owed all her success to her actor father, Keith Allen:
"In response to Miss Sovereign's comments, I've spoken to my dad and he says he'd be happy to adopt you if you think it will give you a leg up."
Katy Perry later apologised for the "I'm a thinner version of Lily Allen" comment she made during a British radio interview, but not before the target of her jibe bit back:
"I happen to know for a fact that she was an American version of me...I think the lyrics and stuff are a bit crass...It's like, you're not English and you don't write your own songs, shut up!"
Lily took on the ultimate pop star diva, Sir Elton John, in 2008 after he made fun of her tipsy state at the GQ Men Of The Year Awards:
"F*** off Elton, I'm 40 years younger than you. I have my whole life ahead of me."
Lily unofficially spoke up for every celebrity whose photo has been defaced on Perez Hilton's trashy gossip site during her first major Twitter spat in 2009:
"Go away you little parasite...you cheap-ass whore."
After a lengthy Twitter battle in which Azealia Banks described Allen as a one-hit wonder and her children as 'ugly,' Lily delivered the knockout punch with this inspired summary of the rapper's hesitant career approach:
"ive had 2 kids since [Banks' 2011 debut single] 212 dropped and i bet my my album still comes out 1st. b**ch is scared of the ball. OUT."
More:
5 Young Brit Stars with Famous Parents
Has Lady Gaga Sold Out?
What Your Favorite Boy Band Says About You
---
From Our Partners:


40 Most Revealing See-Through Red Carpet Looks (Vh1)


15 Stars Share Secrets of their Sex Lives (Celebuzz)