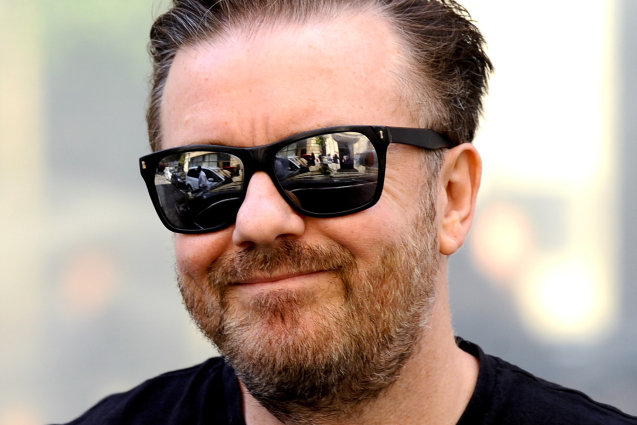 Euan Cherry/WENN
As the champion of atheism, British comedy, and put-down humor, it makes sense why Redditors love Ricky Gervais.  It also makes sense that when he tells Reddit to ask him anything (AMA), they have a lot of questions. Reddit's inquiries were personal, funny, and often lewd, and Gervais responded in kind. He also discussed his new show Derek, which has already aired in England and will come to Netflix on September 12th. The mockumentary comedy centers around Derek, played by Gervais, a sweet and bumbling nursing home worker.  Here are some of Gervais' best quotes from the AMA, some about Derek, and some about...other things. 
On who would play the lead in a movie about Gervais:
"Daniel Day-Lewis would play me as a baby. He can do anything. Johnny Depp or Brad Pitt are fighting out for me now. And Meryl Streep will play me after the sex change. I haven't told you about that, have I?"
On his current favorite shows: 
"My favourite shows of the year are House of Cards, the Scandinavian versions of The Killing and The Bridge, and my guilty pleasure is everything MMA. Ultimate Fighter is amazing."
On whether Derek was based on his experiences: 
"The situation certainly is. Half my family growing up were carers of some sort, mostly retirement homes (stroke, Alzheimers), and Derek is like my fictional superhero of an everyday gentle outsider. I suppose they're all little fables about kindness. And possibly, a love letter to my lovely, poor and humble family growing up."
On which The Office boss would survive longer as gladiators in ancient Rome (Gervais played the UK Office's boss David Brent):
"Brent lasts longest. Because he begs for his life, and then stabs Michael when he lets him up."

On his worst experience:
"I saw Louis CK naked."
On his favorite comedians:
"Richard Pryor, George Carlin, Dave Allen, and a couple of new boys heading towards that list like Louis CK and Doug Stanhope."
On his favorite snack:
"Cheese on toast has got to be right up there."
On what he would do as King of England:
"I'd probably invade a country. A smaller, weaker country. One that can't defend itself and is helpless. With lots of gold."
On his infamous bathtub selfies:
"I like my baths really deep and hot. But washing everything only takes a few minutes. So I thought it would be a waste to just flush all that water away. So there was nothing else to do but take pictures of myself trying to look as horrendous as possible. Oh my, what have I started?"

On his greatest accomplishment:
"I fought a bear once. But it started crying, so I let it off."
On the moment when he became a celebrity in America:
"I guess winning the Golden Globes for The Office in 2004 against all odds started it all. When I went up to collect the first award, Clint Eastwood was overheard to say 'Who the f**k is that?'"
On being known as Reddit's "King of the Atheists":
"I prefer 'God of the Atheists.'"
Read the rest, including the questions Gervais chose not to answer, here.
More:
What's Next For Netflix Exclusive Series?
Ricky Gervais' New Comedy 'Derek' Hits Netflix In September
Ricky Gervais' Youtube Show: Learn Guitar With David Brent
---
From Our Partners:


40 Most Revealing See-Through Red Carpet Looks (Vh1)


15 Stars Share Secrets of their Sex Lives (Celebuzz)