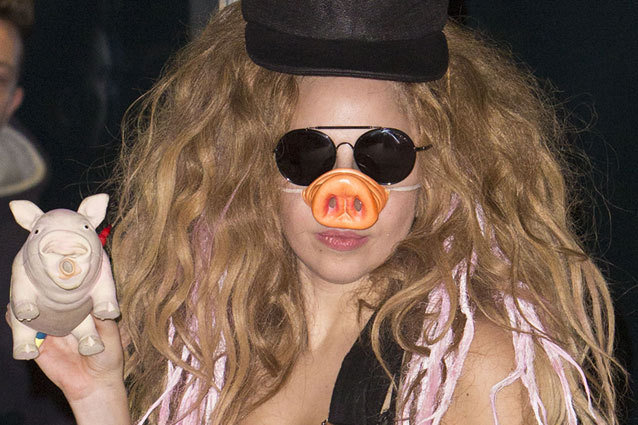 WENN
In Tuesday's interview with The Guardian, Lady Gaga proves just how insane the life of the rich and famous can be. She's also proving she's a little wacky herself… you know, in case you missed the meat dress, egg hatching, or naked video. In the interview, Gaga talks about the pressure of being a star and of always having people watching you, especially when you draw attention to yourself. 
Here are a few quotes from her interview that will give you some insight into her life (or something). 
When asked about being in the spotlight:
"I hid in my house, I hid a lot ... to preserve my image as a superstar to my fans. I don't mean I am a superstar, I mean that they only ever see me at my best. And it really drove me crazy. So I've really had to make more of an effort to go out more. I mean, can you imagine what it's like not to feel real wind? Honestly, I hadn't felt real wind for years!"
"I would be indoors all day and then I'd get in a car in a garage and then drive to another garage and get out and rehearse and then do it again, from country to country, and never walk outside. I remember some of the longest walks I had were from the car to the aeroplane on the tarmac."
When asked if she felt persecuted:
"Yeah, for sure I do. Yes! I certainly feel that at this time it's almost as if people are surprised they haven't already destroyed me."
"It gives them a sense of pleasure when they believe that they've destroyed me or taken me down."
When asked about her new single, "Applause":
"It's literally not even been two weeks since my first single came out and it's all, 'She's over', or, because I'm not No. 1 yet, 'She's finished.' People focus less on the music and focus more on how the music's doing; how it's faring from a numbers perspective, from a financial perspective. If you think I give a damn about money then you don't know me as an artist at all."
"I think that once you've had a few No. 1s in your career that you've kind of proven yourself and I don't feel the need to prove anything anymore."
"It's so interesting for people to say that the lyrics are all about me the performer, I want you to feel that way about yourself, that's why I wrote the song. I want you to wake up in the morning and say: 'I live for your applause, look at me today, I'm having a great day, I'm going to work and I'm going to have a fantastic lunch with my friends.' But it's not to be taken quite as seriously and as literally as people make it to be, which is why in the verses I'm sort of making fun of what people think about fame."
When discussing the operation that put her in a wheelchair:
"I know everyone was thinking I was trying to be a bit silly with my gold wheelchair but I was really trying to keep a bit of strength for my fans because it really upset them and scared them."
When asked about who she considers to be her fans:
"I mean everybody. I mean anyone that's watching."
Why she made her new album, ARTPOP:
"I had really tried to hide a lot of my pain from my past in the last few years," she says towards the end of the interview. And yet, at the Roundhouse she introduced her new song "Swine" with, "My heart, my skin, and my pussy felt like trash."
"For ARTPOP, I, in the most metaphorical explanation, stood in front of a mirror and I took off the wig and I took off the makeup and I unzipped the outfit and I put a black cap on my head and I covered my body in a black catsuit and I looked in the mirror and I said: 'OK, now you need to show them you can be brilliant without that.' And that's what ARTPOP is all about. Because I knew that if I wanted to grow, if I really wanted to innovate from the inside, I had to do something that was almost impossible for me."
More:
All The People Lady Gaga Imitated in Her 'Applause' Video: Madonna, Cher, And... Botticelli? 
Has Lady Gaga Sold Out?
The Lyrics to Lady Gaga's New Single 'Applause' Are Absolutely Ridiculous  
---
From Our Partners:


A Complete History Of Twerking (1993-2013) (Vh1)


15 Stars Share Secrets of their Sex Lives (Celebuzz)