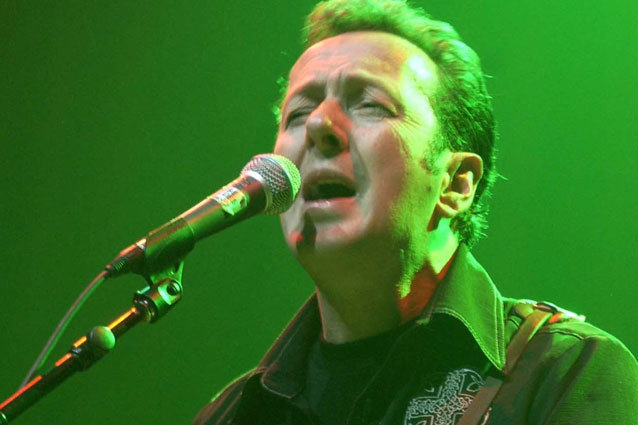 WENN
What's in a name? Everything if you're a rock star. Majority of people are born with boring, everyday names - unless, of course, you're born to a 20th century celebrity, in which case your name is a fruit, Disney character, or another entry from the MeSoUnique dictionary. In order to be larger-than-life celebrities, these rockers opted for a larger-than-life name.
Here's a rundown of rockers with some of the best names that their mamas don't call them by. 
Marilyn Manson (Brian Hugh Warner)
The artist formerly known as Brian Hugh Warner came up with his stage name by combing the names of 2 infamous icons from the 1960s: Marilyn Monroe and Charles Manson. He chose the 2 celebs because he wanted to have the "fakest stage name of all" to reflect the phoniness of show business. Well played, Brian.
Axl Rose (William Bruce Rose, Jr.)
Before his name was synonymous with rock star douchebaggery, Axl Rose was called William Bruce Rose, Jr. The name we've all come to love and loathe him by came from the name of one of the first bands he was in when he first moved to Los Angeles: AXL. Of course, there is that whole anagram story…
Elvis Costello (Declan Patrick MacManus)
Declan MacManus may sound like the name of a capo from the Westies, but it's actually the birth name of post-punk rock god Elvis Costello. Costello took his name from his musician father's stage name (Day Costello) and Elvis Presley.
Cat Power (Charlyn Marie Marshall)
Cat Power sounds like the slogan of a felinist wanting to empower kitties everywhere, but really the indie rocker's stage name came from a guy wearing a Caterpillar trucker cap. Power was part of a band that needed a name for their first show, and after seeing a man in a "Cat Diesel Power" hat, she knew she found the name. Though she ended up moving to New York a couple years after, the name stuck and she's been Cat Power ever since.
Slash (Saul Hudson)
Back in the 70s, when someone said "Better call Saul," they were talking about Saul Hudson. Slash got his nickname from family friend and actor Seymour Cassel, who started calling him the name due to the fact that he was always in a hurry and never in one place for a long period of time.
Iggy Pop (James Newell Osterberg)
Iggy Pop has long been called the Godfather of Punk, but his real name sounds like the name of an 80-year-old Russian history professor. After serving as the drummer for The Iguanas, Mr. Osterberg officially became Iggy. The "Pop" came after a friend of the Stooges, Jimmy Pop, lost all his hair, including his eyebrows, prompting Iggy to shave off his eyebrows in tribute and consequently being dubbed Iggy Pop.
Joe Strummer (John Graham Mellor)
John Graham Mellor sure doesn't sound like the name of the frontman of one of the original punk bands, so it's no surprise that he changed his name. Before he was Joe Strummer, though, he went by Woody Mellor, in honor of folk legend Woody Guthrie. He used this moniker during his time with the 101'ers and a couple years before the Clash was born, changed his name to Joe Strummer. The "Joe" was to signify that he was nothing special, just a "regular joe," and the "Strummer" pertained to his rather lackluster rhythm guitar skills.
The Cramps: Lux Interior (Erick Lee Purkhiser) & Poison Ivy (Kristy Marlana Wallace)
"Hi, my name is Lux Interior and this is my wife, Poison Ivy." Few people get to drop opening lines like that, but the 2 permanent members of psychobilly pioneers the Cramps were an exception. Interior not surprisingly took his name from an old car commercial, while Ivy (who also went by Ivy Rorschach) stated the name had come to her in a dream.
Brody Dalle (Bree Joanna Alice Robinson)
With a name like Bree Joanna Alice Robinson, you're either going to become a Type A debutante who looks up to Paris Hilton, or you're going to drop every part of your name and become one of the most hardcore lead singers of a punk rock band. Luckily for the world, Bree Robinson opted for the latter and changed her name to Brody. Before she adopted her last name from crazy/badass French actress Beatrice Dalle, however, she was known as Brody Armstrong (aka Tim Armstrong's wife). A Rolling Stone tongue-makeout session with Josh Homme later, Brody Armstrong officially became Brody Dalle.
Sid Vicious (John Simon Ritchie)
Born John Simon Ritchie, Sid Vicious went on to personify the defining aspects of punk rock – rebellion, attitude, and safety pins. The story of the Sex Pistols is one of abrupt fame coupled with an even speedier decline, and Vicious' scandalous life and tumultuous relationship with girlfriend Nancy Spungen made for a punk rock fairytale, where there's no such thing as a happy ending. The best part of all this, though, is that the dude was named after a hamster. After being bit by Johnny Rotten's fuzzy, lovable hamster Sid, the then-John Ritchie said, "Sid is really vicious!," and Rotten decided that a star was born.
More:
Rockers Love Models, And Vice Versa
Fleetwood Mac Before Buckingham Nicks: An Essential Primer
5 Awkward Band Reunions
---
From Our Partners:


40 Most Revealing See-Through Red Carpet Looks (Vh1)


15 Stars Share Secrets of their Sex Lives (Celebuzz)