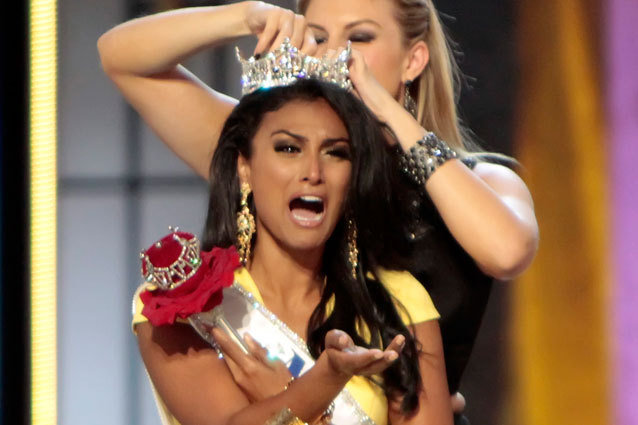 Donald Kravitz/Getty Images
Miss New York Nina Davuluri was crowned Miss America at Sunday night's pageant. Davuluri was the first Indian-American woman to be awarded the crown, and one of only a handful of minority winners in nearly 100 contests. While some people continue to be terrible (if you're a glutton for punishment, BuzzFeed collected a handful of the worst) and were up in arms that a blonde Middle American wasn't elected winner, the judges determined that Davuluri's Bollywood dance and thoughtful response to the question of plastic surgery were enough to give her the crown. Oh, and the fact that she's incredibly beautiful. That probably factored that in as well.
But beyond hateful tweets and messages (seriously, have people always been this awful?), Davuluri has been plagued by a controvery of her own making in the days leading up to the competition. After winning the title of Miss New York, Davuluri celebrated with a few friends in her hotel room, where a "source" for Page Six heard her trash-talking 2013 Miss America and former Miss New York Mallory Hagan. Hopefully she saves some of that smackdown for the haters who will have to learn to live with a Miss America that challenges their limited perspectives on what it means to be American. 
More:
13 Hot Miss America Bikini Bodies
9 Awesomely Cheesy Talent Competition Pics
Miss New York Mallory Hagan Crowned Miss America — Emotional Pic
---
From Our Partners:


A Complete History Of Twerking (1993-2013) (Vh1)


15 Stars Share Secrets of their Sex Lives (Celebuzz)