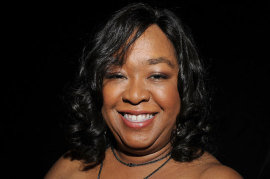 Mark Sullivan/WireImage
Fans of the popular ABC shows Grey's Anatomy and Scandal often find themselves wondering who comes up with the fictional plot twists and love affairs that keep them up at night. While she obviously does not work alone, the simple answer is Shonda Rhimes. The Emmy-nominated writer and producer created both shows, but that's not all she contributes to the universe. Here are a few things you might not know about the genius behind the curtain.
She Knows How To Handle Drama On And Off The Screen
This past year  Rhimes came under  criticism for the treatment of her lead character Olivia Pope (played by Kerry Washington). Some folks (including Star Jones) accused her of glorifying marital affairs, and even felt that the interracial relationship on the show was problematic. Rhimes has brilliantly responded to such accusations by defending her art as just that — art, and not a political or social platform. And she often takes to Twitter to remind people who get a little too caught up that her shows are, in fact, fictional.
Oprah Winfrey Is Obsessed With Her
When Oprah Winfrey and former President of the United States Bill Clinton watch your show (they both love Scandal), it's kind of a big deal. But Oprah and Shonda are so close, their Twitter exchanges are well-documented, and when Shonda made TIME Magazine's 2013 list of 100 most influential people in the world, Oprah even wrote the powerful accompanying essay.
Halle Berry Kinda, Sorta Owes Her
Halle Berry got her start long before her role in the television biopic Introducing Dorothy Dandridge. Still, her performance in the Shonda Rhimes-written script was one of her best and most well-respected, as she (along with Rhimes) brought to life the important story of the first black movie star to be nominated for a Best Actress Oscar.
She Was a Candy Striper in High School
This woman is living proof that volunteer work truly pays off in the end. Rhimes volunteered at a hospital during high school, and attributes that experience to her interest in such environments. Grey's Anatomy and its spin-off series Private Practice are a direct result of her candy striper days in Chicago.
She's an Inspiration to Unemployed Writers Everywhere
After Rhimes got her Masters of Fine Arts degree from the University of Southern California, she was just another unemployed scriptwriter in Hollywood. She worked odd jobs to pay the bills, but eventually got her big break as a research director for a documentary on Hank Aaron. See? We all gotta start somewhere.
More:
Cast & Crew Discuss The 'Scandal' Season Finale
Lisa Kudrow Joins 'Scandal'
Sandra Oh Leaves 'Grey's Anatomy'
---
From Our Partners:


40 Most Revealing See-Through Red Carpet Looks (Vh1)


15 Stars Share Secrets of their Sex Lives (Celebuzz)