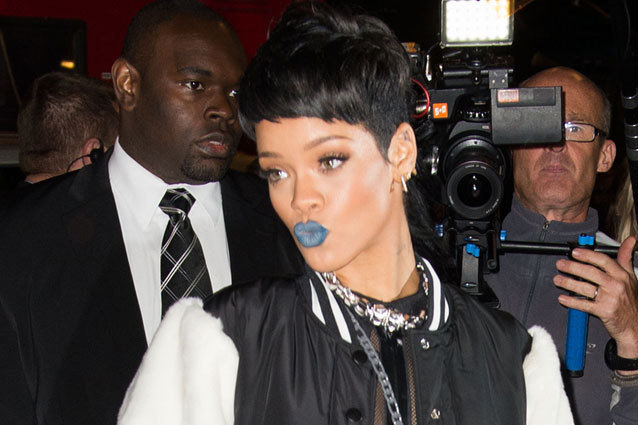 Samir Hussein/Getty Images
It seems as though some celebs never stop tweeting. Last week had a few gems dropped by the usual suspects that popped up out of nowhere (which are the best kind of tweets). Whether it was dirty daydreams about Tim Tebow or musings about foreplay, these stars have random tweets down to an art.
Conan O'Brien

The new Grand Theft Auto has already made 800 million dollars? Starting tomorrow, I start murdering my guests.

— Conan O'Brien (@ConanOBrien) September 19, 2013
The funnyman definitely has a point. Here's hoping his guests will show up wearing Kevlar from now on.

Rihanna

I could give a phuck about the foreplay...I want it now.

— Rihanna (@rihanna) September 20, 2013
Thanks for sharing that, RiRi! We were just dying to know about how you like to have sex.
Stephen Colbert
Five years after the Financial Meltdown, isn't it time to recognize that 'The Financial Meltdown' would be an amazing name for a sandwich?

— Stephen Colbert (@StephenAtHome) September 17, 2013
As usual, Stephen Colbert is right on the money. The Financial Meltdown burger actually sounds like it could be pretty delicious. Hopefully the lettuce in the burger will be replaced by $1 bills (hey, it's fiber).
Tyra Banks
When you don't exactly love how your butt photographed in a #fierceyovacation pic, crop it out! pic.twitter.com/viJDRgsjRN

— Tyra Banks (@tyrabanks) September 21, 2013
Don't like part of a picture – crop it out. Isn't that…common sense? Whatever – we can't dare speak back to the woman who taught men, women, children, and animals everywhere how to smize.
Rainn Wilson
Tim Tebow. Alone in his home gym. His body drenched in sweat. Weeping.

— RainnWilson (@rainnwilson) September 18, 2013
Damn Rainn, what kind of fantasy football are you planning for?
More:
Reclaim The Internet With This Extension That Blocks All Things Miley Cyrus
Celebs Who Need To Go Back To School
Rihanna's Picture With Endagered Monkey-Sloth Got 2 Dudes Arrested in Thailand
---
From Our Partners:


40 Most Revealing See-Through Red Carpet Looks (Vh1)


15 Stars Share Secrets of their Sex Lives (Celebuzz)