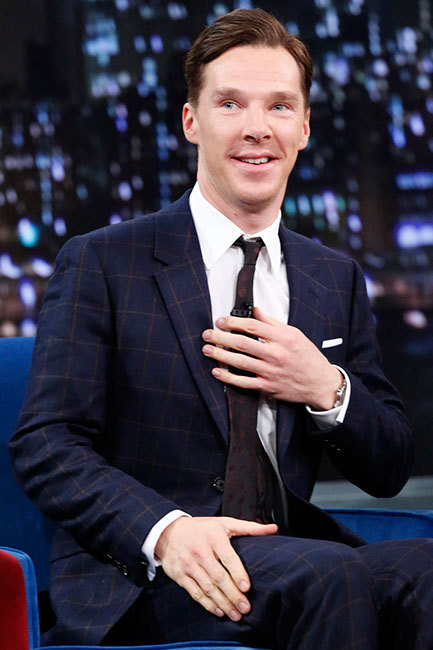 2013 NBCUniversal Media, LLC
Among his supporters, The Fifth Estate's Benedict Cumberbatch can count most of the Internet. So when the Sherlock star hopped onto Reddit to answer fan questions, the response was massive. Despite taking on some intense, dramatic roles, Cumberbatch doesn't seem to take himself too seriously. And, because he's English, he is unfailingly polite — even online. Read on for the highlights from his "Ask Me Anything" session and head over to Reddit to see the entire exchange.
On his "weirdest" fan encounter:
"Ted Danson at a pre-Oscar party screaming across a floor of people like Leonardo DiCaprio, Ray Liotta, Kristen Stewart, Kirsten Dunst, et al while pushing past them and knocking their drinks. 'Oh My God! Oh My God! It's f**king Sherlock Holmes!'"

On fame:
"When it happens to you, it doesn't matter what age or how, it is a very steep learning curve. The important thing to realize in all of it is that life is short, to protect the ones you love, and not expose yourself to too much abuse or narcissistic reflection gazing and move on. If fame affords me the type of ability to do the kind of work I'm being offered, who am I to complain about the downsides. It's all relative. And this are obviously very high class problems. The way privacy becomes an every shrinking island is inevitable but also manageable and it doesn't necessary have to get that way..."

On his favorite pranks, either as protagonist or target:
"Neutron cream. Come on, people!
PS. Anytime you're in a restaurant with a group of friends and one of them goes to the restroom or bathroom, tell the waiter that it's that person's birthday. Not only is it fun to embarrass the hell out of the poor victim, but you get free cake in the bargain."
On any effect co-star Martin Freeman may have had on his level of sassiness:
"Well of course Martin will be furious unless I say I owe it all to him. And believe me, his wrath is more fearsome than any dragons."

On the difficulty of keeping Sherlock set secrets:
"I cry myself to sleep at night. And then wake up laughing."

On his "comfort" movies:
"Ghostbusters. Loads of John Hughes classics. Annie Hall. Annnnnd 2001: A Space Odyssey!"

On what makes a good interview:
"I often feel in interviews people should ask about the culture and people that I engage with as an audience rather than the same bio or personal life details. Rough with the very, very smooth, these are high class problems. The best interviews evolve like conversation. They're not led by journalists that are seeking to thrill their editor with predictable copy and questions that are basically answers."

On whether he, Matt Smith, and Tom Hiddleston have "cheekbone polishing parties":
"We like nothing better than buffing our Zygoma. And imagining a horny time traveling long overcoat purple scarf wearing super sleuth nordic legend f**k fantasy. Get to work on that, internet."