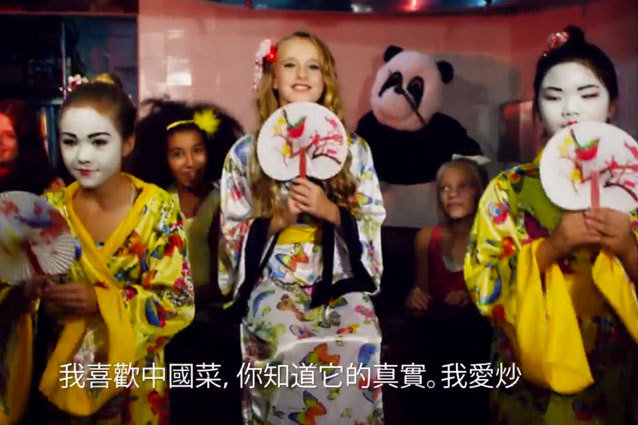 patomuzic/YouTube
Patrice Wilson has somehow managed to stay in business making overproduced, terribly banal music videos for middle school girls long after Rebecca Black's "Friday" became a national punchline for months. But he's finally worked his way back to the zeitgeist with this orientalist nightmare — uh, music video, called "I Love Chinese Food," performed by preteen Alison Gold. It would great if we could unreservedly love "I Love Chinese Food," but some (or most... or all) of it heads away from the goofy weirdness of "Friday" towards some crazy stereotypes. Literally. The stereotyping is way crazier than it is offensive. You probably have to watch it to see what we mean, followed by 10 things that you absolutely need to know about the music video for "I Love Chinese Food:"  
1. "After balling, I go clubbing/Then I'm hugging/Then I'm hungry" is a typical night for Alison, who apparently enjoys clubbing in the suburbs in the middle of the afternoon. 
2. There are subtitles of almost every language here, but not simultaneously. So every culture can enjoy one or two lines of this amazing song!
3. There's still a monopoly property called "Oriental Avenue," which is all wrong. (2:22)
4. It's best to mix hot sauce with your fingers. It also makes great lip gloss! (2:35)
5. That "Chow Mein Chow M-M-M-M-Mein" moment is just begging for a rhyme with "Make it R-R-R-R-Rain." Seriously, you have her do the motion and then absolutely nothing? (0:59)
6. Geisha makeup and kimonos are, of course, staples of Japanese culture, not Chinese. I guess it's nice that these very traditional Japanese girls also love Chinese food! (2:45)
7. At one point, Alison orders so much Chinese food that the poor girl behind the counter has to furiously type out her order like the register is a sweet, sweet, lo mein delivering typewriter. (1:07)
8. Chinese food has the powers to release panda bears from the rainbow sky prison in which they usually reside, but only for the span of one fortune cookie's command. (3:15)
9. Don't think we didn't catch the semi-British accent at 1:27. No American teen says it "be-OO-ti-faux."
10. FORTUNE COOKIES ARE NEVER WRONG. But you knew that.