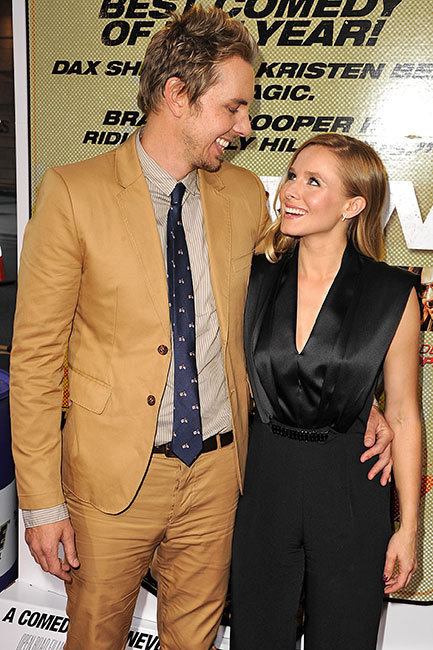 Steve Granitz/WireImage
After six years, one baby, and a memorable sloth incident, celeb couple Dax Shepard and Kristen Bell finally got married. According to reports, on Thurs. Oct 17, Shepard and Bell were visiting the Beverly Hills County Clerk's office to get their marriage license when a court employee offered to do the deed right then! The pair went for it, and apparently a photographer on sight snapped a few photos of the happy couple, with office employees saying Bell cried during the ceremony. Although Shepard and Bell probably weren't planning on getting married yesterday, it seems to be the kind of low-key ceremony they were hoping for. When discussing her wedding last year, Bell told USA TODAY, "I don't want another day where I get dressed up and wear makeup and celebrate myself. We really don't want any attention for it." 
While the wedding may not have been a grand or public affair, both Bell and Shepard have been very vocal about their plans not to get married until the ban on same-sex marriage was overturned. In 2012, Bell said, "I don't feel appropriate taking advantage of a right that's denied to my friends." 
When the Supreme Court ruled that same-sex marriages would be allowed in California, Bell re-proposed to Shepard via Twitter (the two were formally engaged in Jan. 2010).
.@daxshepard1 will you marry me? Xo #marriageequality #loveislove"

— Kristen Bell (@IMKristenBell) June 26, 2013

Shepard responded with:
DOMA is dead. Prop 8 is dead. Now let's bring my big, gay marriage to @IMKristenBell to Life!!!!

— dax shepard (@daxshepard1) June 26, 2013
Together, Shepard and Bell have a daughter, Lincoln, born in March 2013. This will be the first marriage for both actors.