Bryan Cranston has lent his voice to a great many monologues in Breaking Bad. Speeches that will ring in the ears of television fans forever. But now he offers his distinct tone to sing the praises of what Apple is leading us to believe is the greatest object to ever be created in human history: the new iPad air. 
In a minute-long ad named "Pencil," Cranston devotes his pipes to what is effectively treated as Jesus in tablet form. The device sits on the mantle of artists to scientist alike. Cranston speaks in reverent tones about all the wondrous accomplishments of the iPad. "It can be used to start a poem," Mr. White says, "or finish a symphony." See, it's like the pencil, except you can't play Temple Run on a pencil. Cranston then says, with a voice full of hope and wonder, that "we can't wait to see where you take it next." I'm guessing we're gonna take it for a round of Candy Crush Saga on the subway.
Apple has finally found a way to convince the few people without iPads to finally buy one: abject terror. Now I'm getting the irrational feeling that failing to purchase one will land me on the hit list of a certain meth lord. That's effective marketing!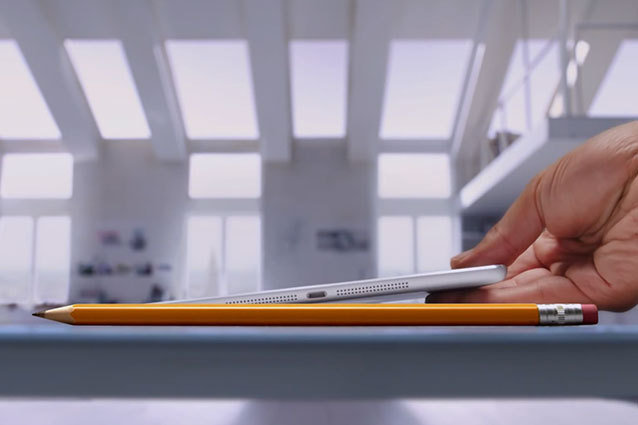 Apple/YouTube
We hope to see Cranston lend his voice to other things in the future... maybe even next year's new iPad: The greatest object to ever be created in human history, now with better battery life!
Follow @Hollywood_com
Follow @CurrentlyJordan