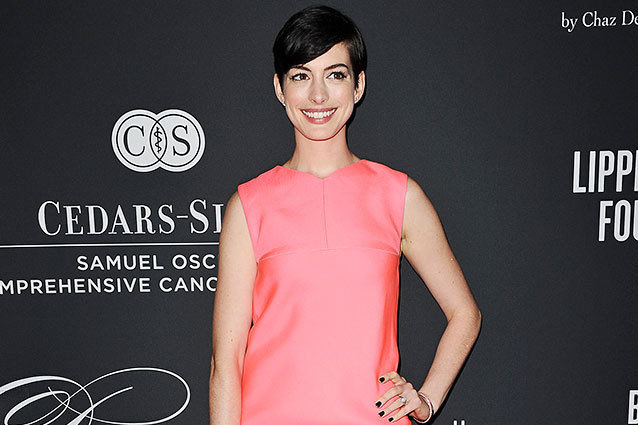 Jason LaVeris/FilmMagic
Just in case people didn't already dislike Anne Hathaway enough, she is now adding another reason to our list of Fantine-induced annoyances. While the Hathaway-hate has been a long-running (just over a year) Hollywood legacy (hey, they do have a nickname!) the Oscar winner has now officially pushed her Hathahaters over the edge. 
On Oct. 19, Hathaway was chosen to act as the celebrity host at the Pink Party; an event held to raise funds for breast cancer research. However, the 30-year old starlet was apparently very uncooperative and pulled a major diva move when she asked fans and staff not to bother her. While it was considered to be just a rumor, there is now is an email to prove it. 
The leaked email that was allegedly sent to event staff members reads:
"PLEASE PLEASE
Do not take photos of ask for an autograph from anne hathaway. Her team is starting to getting really concerned today. Please make sure none of you or your guests approach her. I know in the past our hosts have mingled in the party, but each person is different and We are trying to respect her space.
No bloggers!!!!! Please!!!! cannot talk to her, nothing please. (forward team please help me!) Most of our celebs are happy to talk and share why cancer research is important to them so there will be other opportunities at the event.
I will truly need all of your help!!!
If you are sitting next to her in the front row, please make sure no one goes into to lounge :)"
While the essence of the email is pretty low (she is the host after all), the quality of the writing and formatting is what really bugged us. Whoever wrote this clearly put no effort into the document, not even straining to capitalize the subject's name. Come on, Anne. If you actually want people to take your behavior seriously, you at least need to hire people who can write a decent email on your behalf. Now we're going to make fun of your irritating behavior AND your inability to get your demands properly conveyed. 
So, whether this email is the first time you're hearing about Annoying Anne, or if you're just one of those people who can't pinpoint exactly why you don't like Hathaway, here are two pieces of evidence that may answer some of your questions. First, check out our breakdown of why everyone hates her (there are some logical and scientific reasons). Second, take a look at her Best Supporting Actress Oscar speech below – you're guaranteed be completely aggravated by her fake demeanor and obviously practiced speech– everyone knew you were going to win, so please Anne, don't act so surprised.

Anne Hathaway emotion acceptance speech wins... by dm_512af5eb6ea50
Bonus! Here's the ihateannehathaway tumblr well, because making a tumblr is weirdly hard to do and I'm impressed by the amount of hate that had to fuel the making of this page.