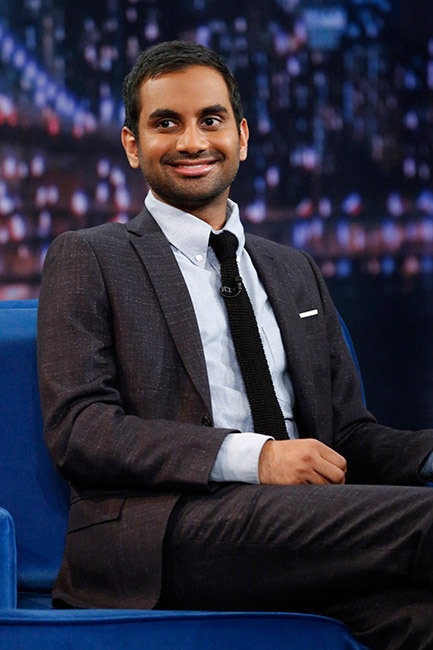 Getty/NBC
As an internet aficionado, both as Tom on Parks and Recreation and in real life, it makes sense why Aziz Ansari would be eager to do a Reddit AMA. The comedian was predictably hilarious as he discussed his new standup comedy on Netflix and much more. Here are his best answers. 
The funniest non-comedian he knows: 
"My brother Aniz makes me laugh harder than almost anyone."
On his childhood dreams: 
"People always ask whether I dreamed of being a comedian, but I grew up in a really small town in South Carolina and you just don't dream that big there. When you're growing up in Bennettsville, your dream is to just get out of Bennettsville."
The show he's love to guest star on: 
"I'm gonna start lobbying to play a corrupt Indian senator on House of Cards. Really want to film a scene at Freddy's Ribs."
His Halloween costume: 
"I was Idris Elba dressed as Thomas the Tank Engine. I dropped in as Thomas at the Comedy Cellar and did standup too. It was super fun."
Why his fake twitter account for Homeland's Sgt. Brody has been inactive: 
"Lost the password for that account!"
His favorite up-and-coming standup comedians: 
"Chelsea Peretti, Hannibal Buress, Michael Che, Moshe Kasher, John Mulaney."
On the representation of Indians on TV: 
"I made the decision early on not to take roles whose sole source of humor is ethnic stereotype humor. And I think over the years, that trend of staying away from that is obviously taken off between myself, Mindy Kaling, Danny Pudi, and many others. As an Indian American, I'm proud because I don't ever remember seeing Indians represented on television or film growing up and now we are. Just think 25 years ago, Fischer Stevens PLAYED an Indian guy in Short Circuit 2!"
On whether he'd ever do white face: 
"I'm gonna play a white guy in the reboot of Short Circuit. Bring things full circle."
His most memorable scene on Parks and Rec:
"Very easy. Ben and Tom are having lunch with a drunk Joan Calamezzo who is creepily hitting on Tom and we have this exchange...
Probably the hardest scene I've ever had to get through without breaking. Adam and I just had to skip doing it for the first few takes. It's on the blooper real I believe. Also, props to Mo Collins, who always brings it as Joan."
On voicing DRL on Bob's Burgers: 
"Getting to do Bob's Burgers is so fun. The next DRL episode is NUTS. I can't give away what they did, but its a great idea and anyone that is a fan of Terminator 2 is going to be VERY pleased."

On why Jerry from Parks and Rec is so disliked: 
"Get off of reddit Larry"
His favorite Game of Thrones characters: 
"Tywin Lannister is pretty amazing. Also Hodor."
His favorite on-set experience with Nick Offerman: 
"When that little puppy licked his mustache."