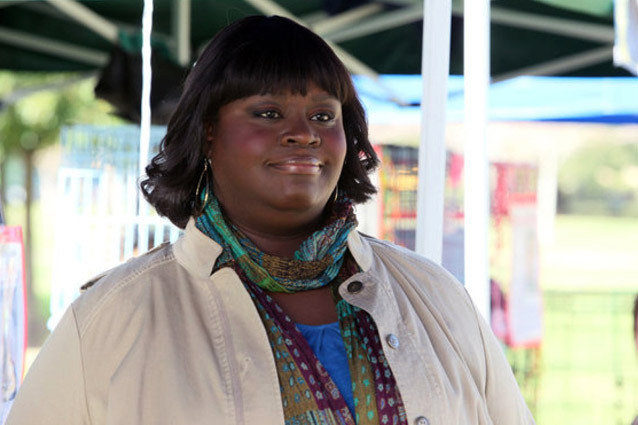 Danny Feld/NBC
With Parks and Recreation's annoying and surprising hiatus, the actors have had some time to mess around on Reddit. Last week, we had Aziz Ansari's AMA, and this week, his on-screen BFF Retta told Reddit to ask her anything. The actress is internet savvy and endlessly entertaining, and she seems to at least share her character's affinity for snappy answers and Twitter. If you like her answers to this AMA, check out her live tweets of her favorite shows, from Sherlock to Scandal. 
The difference between herself and Donna: 
"I'm much goofier than Donna. Donna does not suffer fools and sometimes I do because I'm more polite."
The Parks and Rec cast member with the best butt: 
"I would have to say Chris Pratt, now that he's all buff and cock diesel."
Her favorite piece of classical music: 
"Vivaldi's Gloria."

On Fitz and Olivia from Scandal: 
"I can only say that the writing of that relationship is so well-done that I root for it, even though I know it's an adulterous relationship. The actors do such a good job, and Shonda and company did such a good job writing it, that I can't help but want them to be together even though I know it's f****d up that he's married."
Her comedic inspirations: 
"Chris Rock, Tina Fey, honestly right now I'm really into Mindy Kaling, Lena Dunham, Amy Poehler."
Her favorite characters from Orange is the New Black: 
"Hmm! I'm torn between Crazy Eyes and Tastee. Tastee makes me laugh at every turn, but Crazy Eyes has some depth that I'm dying to get to know about."
Whether the actor (Jim O'Heir) who plays Jerry on Parks and Rec is like his character: 
"Absolutely not. Jim is the most crass person, dirty-joke telling person I've ever met in my life. Jerry would blanch at anything Jim O'Heir says."
On the absence of Ann (Rashida Jones) on Parks and Rec: 
I think it will change the dynamic behind the scenes because Amy and Aubrey are so close to Rashida, and then obviously it will change onscreen in that Leslie doesn't have her best friend there so you will lose those interactions but I know the writers will find a way to fill that void. I do think they will come back for future episodes. I don't know but I wouldn't be mad if Idris Elba got added to the cast.
How she treats herself: 
"With mani-pedis, designer handbags, and online shopping."
The last time she treated herself: 
"Ha! It was Wednesday, and I bought myself the new Louis Vuitton black vernis Alma bag with the matching zippy wallet. I've been waiting six months for it to come in, and it finally came in. And I bought that bitch."
The Parks and Rec cast member who "can get it":
"I can't think of my castmates in that fashion! They are family. But if I had to answer… Rob Lowe."
On BBC's Sherlock: 
"The Reichenbach Fall f****d me up. I'm dying to see how it's resolved. And I really, really need to know if he's dead or if he is showing up in Watson's imagination. And I love the show. Cumberbatch can get it."
Her favorite Parks and Rec episode: 
"Well the "Pawnee Rangers" episode. I particularly like the scene where Ben comes out in the Batman suit, because seeing Adam Scott in that Batman suit brought so much joy to every molecule in my body it was unreal."
On Aubrey Plaza: 
"She can be as awkward as she seems, but I think she does that because she loves to see people's response to it. But she is also a very sweet girl. And I think people would be surprised by that. I probably should not have told you."