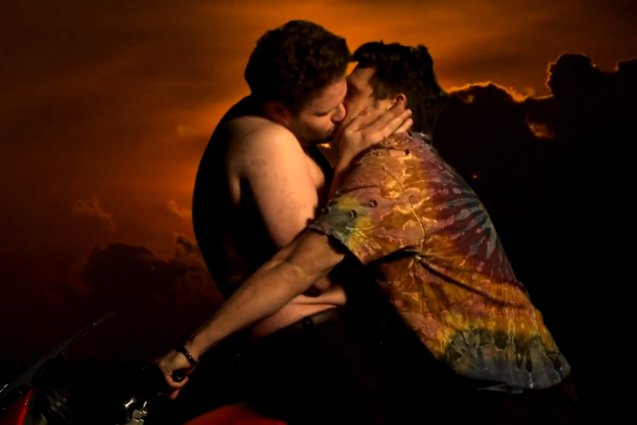 Seth Rogen/Facebook
We never knew we wanted to see Seth Rogen pretend to be Kim Kardashian until now. In a gloriously hilarious move, pals Rogen and James Franco teamed up to create their very own parody of Kanye West's music video for Bound 2. We're talking about a shot-for-shot remake that doesn't leave anything to the imagination.
The Pineapple Express and Freaks and Geeks co-stars went all out to recreate the video, which stars Kanye's completely naked bride-to-be Kim. Franco dressed up in a heavy amount of plaid to channel the rapper while Rogen played an extremely hairy version of Kim (what Rogen lacks in luscious locks, he makes up for with his hairy back). 
From scenic landscape shots to a squinty and smoldering Rogen to an emphatic Franco, the pair made good use of their green screen and wind machine. And we'll answer the question that's on everyone's mind: Yes, Rogen and Franco make out while dry-humping on a motorcycle. (We told you they didn't leave anything out.) 
Check out the parody below (and hope that Kanye doesn't pull a Kanye-Kimmel move and take the video down):
We hope Rogen and Franco know that their fans are going to be expecting remakes of every one of Kanye's music videos from now on...
Follow @CaseyRackham
Follow @hollywood_com