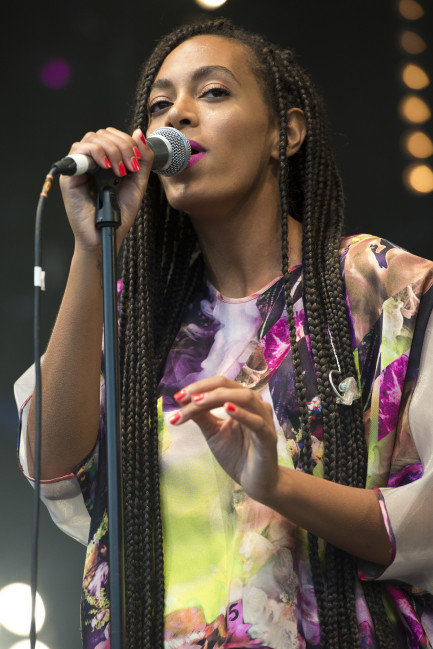 WENN.com
Last year Solange released what was, arguably, one of the best musical collections of the year. Her EP True remained, for the most part, under the radar of mainstream music but it was a brilliant, beautiful, and unique work by the young singer. Although we can't wait for her next solo album, her new compilation album Saint Heron is a pretty sweet holdover. Solange has officially started her own record label, Saint Records (a division of Sony), and Saint Heron is her first project. Currently streaming on Spotify, this impressive collection of artists gives us high hopes for the future of R&B, which partly involves a triumphant reimagining of the late '90s/early 2000s neo-soul days. Here are just a few artists featured on the compilation.
Jhené Aiko
Jhené has worked with everyone from Drake to Kendrick Lamar to (most recently) Childish Gambino. Her own EP Sail Out is on iTunes now and the Los Angeles beauty -- with her mellow stylings and unique sound -- totally has it in her to blow up.
Kelela
Recently featured in Billboard magazine, Kelela made the right move when she quit her day job as a telemarketer and started pursuing music full time. Without a doubt, she has some of the best tracks on Saint Heron. As easy on the ears as one of her biggest fans (Solange), we're expecting big things from this up-and-coming artist as well.
Cassie
Those of us who heavily associate Cassie with Bad Boy Entertainment mogul Diddy (for various reasons) may be surprised to learn that she and Solange teamed up on Indo for Saint Heron. Solange wrote the track and Cassie dropped her signature breathy vocals. The collaboration made for a great song and has us looking forward to a much-delayed sophomore effort from Cassie.
Petite Noir
The South African vocalist is a fan of everyone from Britney Spears to Lil B. He's already been getting some buzz here in the states, and rightfully so. The single he dropped on Saint Heron already has a video to go along with, and Noirse (which, according to his Facebook page, means "Loving someone unconditionally/ Through life and death") has a vibe unlike anything most of us have been hearing on the radio. Here's hoping he continues to collaborate with artists like Solange to bring us some truly refreshing new sounds.