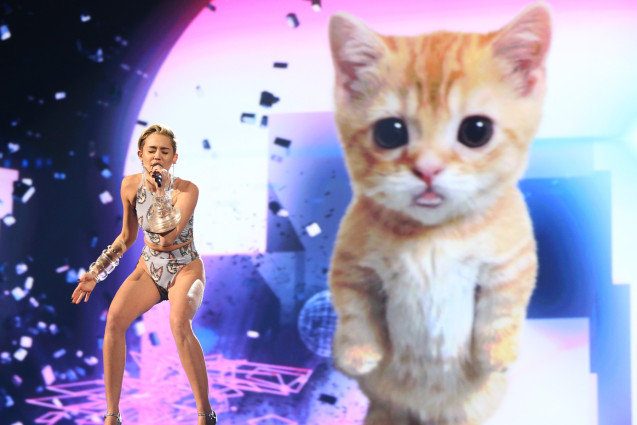 Christopher Polk/AMA2013/Getty
Last night was the 2013 American Music Awards, which means that all anyone is going to be able to talk about this morning is Miley Cyrus. For her performance of "Wrecking Ball," Cyrus decided to change things up a bit and skipped all of the twerking and outrageous antics in favor of giving a simpler, more emotional performance and ensuring that everyone just focused on her voice and the giant, floating cat behind her. That's right, Cyrus turned her latest single into a duet with a massive, animated cat who cried diamonds during the song's emotional climax. We're not sure where the inspiration for the performance came from, although it's probably some combination of all of the cat videos on YouTube and Kanye West's recent "Bound 2" video, but what we're really impressed with is the fact that even though she put in the least amount of effort when it came to staging last night, her weird, singing cat managed to make it the most talked about performance of the night. 
Considering the 2013 AMAs included Lady Gaga arriving on a horse made up of people, Katy Perry building an elaborately-choreographed replica of a Japanese garden, and Justin Timberlake recruiting all of the Tennessee Kids to throw a boozy party onstage, it seems odd that Cyrus should be the most memorable part of the awards show. But Cyrus simply tapped into the most powerful PR resource in the world: the Internet. Let's face it, there's absolutely nothing that the Internet loves more than cats. Sure, seeing R. Kelly perform is always entertaining, and everyone is excited for the TLC comeback, but when it comes to cats, there's simply no competition. 
It's the laziest and yet smartest move that Cyrus as made in the past year. Likely worn down from the combination of promoting "Wrecking Ball" and her recent 21st birthday, when it came time to plan her AMAs performance, the singer was probably too tired to come up with anything too elaborate. But she knew that people were expecting something that would top her infamous VMAs performance and her recent EMAs stunt, so she had to come up with something that would hold people's attention, and yet still allow her to fit a nap into her schedule. "Let's just throw a giant cat up there and call it a day. People love cats. Make it cry diamonds or something, that'll be weird," she said to her management team, and then ran off to dye her eyebrows. And so, simply by hitting the right mix of bizarre and adorable, Cyrus managed to still make the headlines without actually trying. 
In fact, when you think about it, the Internet probably inspired most of Cyrus' recent performances. "Blurred Lines" became the biggest hit of the summer thanks, in part, to its video going viral, so Cyrus simply took all of the buzz surrounding it to a new, weird level. There's nothing gossip sites love more than tween stars behaving badly, and nothing embodies that whole "wacky and out-of-control" vibe better than Cyrus smoking a joint onstage. If her next performance involves a screaming goat and tons of '90s nostalgia, then there will genuinely be no stopping the buzz that surrounds her. (Feel free to use that idea, Miley, no credit necessary.)
So, Gaga, Katy, Justin, and anyone else who might have another big performance coming up, skip the rehearsals and the pyrotechnics and just stick a cat in the background. People will talk about you for weeks. Check out the video of Cyrus and her feline friend, below, for inspiration. 
Follow @hollywood_com
Follow @julesemm