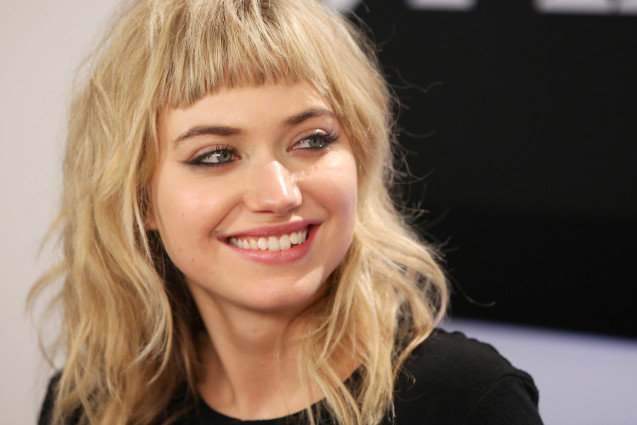 Jonathan Leibson/Getty
Every once in a while an up-and-coming actress catches your eye, and you can't help but wonder who she is and where she came from. When that happens, it's a good idea to start doing some research before she sweeps in under the radar and takes over the world (à la little Chloë Grace Moretz). The trailer for the new romantic comedy That Awkward Moment was recently released, and along with a few familiar faces (Zac Efron, Michael B. Jordan) the film stars Imogen Poots, a young British beauty who has some exciting new projects in the works.
First of all — gotta love that name, right? Imogen Poots sounds like she was destined to live a life of awesomeness and -- considering the actors that she's been working with -- all that awesomeness is definitely unfolding for her. It looks like 2014 is going to be an exciting year for the 24-year-old who may be best known right now for her role in the 2007 zombie film 28 Weeks Later. But we suspect that within a year she'll be far more recognizable; she's starring alongside Jennifer Aniston and Owen Wilson in Squirrels To The Nuts (directed by Oscar-nominee Peter Bogdanovich), and she has joined the star-studded cast of Terrence Malick's highly-anticipated Knight Of Cups. Even though Natalie Portman, Christian Bale, Joe Manganiello and Cate Blanchett will cast some mighty strong shadows, we're looking forward to seeing Poots shine on screen.
Most recently the actress nabbed the lead for Todd Field's Beautiful Ruins, an adaptation of the bestselling novel. Todd Field is the same guy who brought us Little Children back in 2006 (one of Kate Winslet's best movies), so it's safe to say we can get really excited about this film and this new leading lady. Remember the name folks: Imogen Poots, headed for a 2014 takeover.