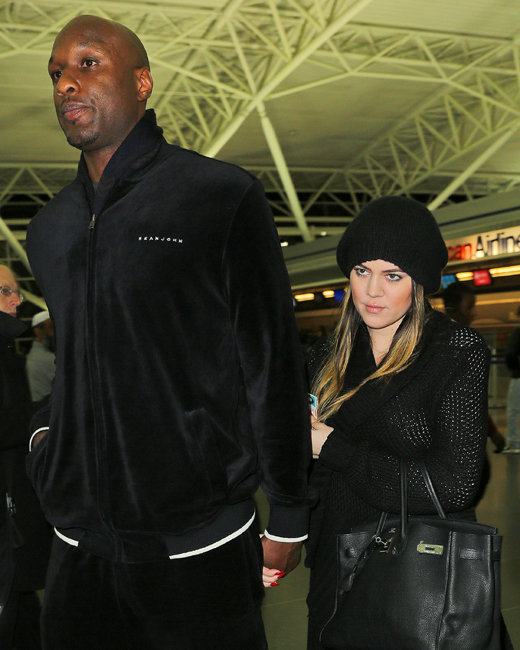 Splash News
Looks like it's going to be a blue Christmas for Lamar Odom. According to TMZ, Khloe Kardashian filed for divorce from the NBA player over the weekend after four years of marriage, citing "irreconcilable differences." According to the paperwork, Kardashian is not seeking spousal support from Odom, and is also petitioning to have any requests from him for spousal support denied. In their pre-nup, the couple reportedly agreed to keep all of their assets separate. Finally, in the clearest sign that Kardashian is really, truly done with this relationship, she is also requesting to have the "Odom" legally removed from her last name. 
The couple married in September 2009 after one month of dating, and were featured on both Keeping Up With the Kardashians and their own show, Khloe and Lamar. The news of their split comes as the culmination of months of reports about Odom's cheating and drug addiction. Earlier this month, he was sentenced to three years probation as the result of his arrest for a DUI in September after he was dropped from his contract with the Los Angeles Clippers following allegations of using crack. Though the couple have reportedly been trying to work through their issues, Kardashian finally decided to file for divorce after they spent Thanksgiving apart. 
Although neither Kardashian nor Odom have released an official statement about their divorce, she appears to be ready to move on from the relationship, and posted a photo to her Instagram account on Thursday that said "I am strong because I've been weak. I am fearless because I've been afraid. I am wise because I've been foolish." Kardashian has primarily used that account to convey her emotional state over the past few months. Meanwhile, according to US, Odom is apparently "very sad" about the end of his marriage, although he saw it coming and "has had time to come to terms with it."