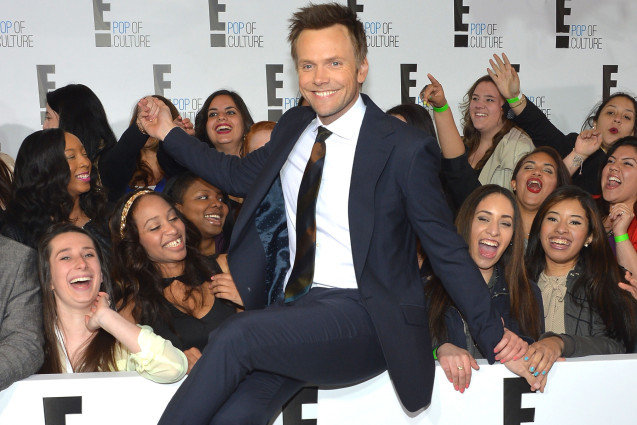 Mike Coppola/Getty
Guys, Community is back. To get everyone pumped for the beginning of season five, Joel McHale, who plays Jeff on the show, answered some questions on Reddit. Here are some highlights from the AMA. 
His favorite songs used on Community: 
"Roxanne, Waterloo..."
On his strangest interactions with fans: 
"The ones that want me to sign their genitals always get a bit awkward."
On Community creator Dan Harmon's return to the show: 
"Having Dan back is the same feeling you get from a Nestea plunge (absolute relief and delicious refreshment)"
"This is going to be a long answer. Dan was the only way I believe we would get to a 6th season since the show is in his head. Like J.R.R. Tolkien had Middle Earth in his. And I have to thank NBC and Sony for being open and willing to bring him back. And I'm as excited as a little schoolgirl."

On backlash from celebrities about coverage on The Soup: 
"There was a time years ago when I don't think Tyra Banks was very happy about what we said about her show. But I've met her since and she was very cool."
Whether it's difficult to spend enough time with his wife: 
"Wow, that's a thoughtful question. Yes. Because of my schedule, it's hard to be around as much as I want. But believe me, there are way more other people with bigger time constraints than I have. My number 1 goal is to spend as much time with my wife and kids as possible. That, and playing Call of Duty."
Movies he's working on: 
"Adam Sandler's Blended, Deliver Us From Evil (out on July 2), A Friggin' Christmas Miracle with Robin Williams, and some low budget softcore stuff ...Wait! Adam Sandler's Blended is now called The Familymoon."
On the scar on his eyebrow: 
"I fell when I was 6 during a power outage into the corner of a brick fireplace. Yup! I'm coordinated."
His favorite kind of soup: 
"I've never been asked this. I'll have to think about it."
On the missing Community characters: 
"We will miss Donald dearly. And Chevy left midseason last year and I wish him the best."
His favorite guest stars on the upcoming season: 
"It's impossible for me to pick a favorite because all these people came in like designated hitters and hit grand slams. I will say this: it was hard for me to not break into laughter watching Mitch Hurwitz work."
His favorite episode of Community: 
"I really couldn't say. That's like picking my favorite bourbon."
Annie or Britta? 
"Both."
On his hair: 
"It's a mixture of incredibly good lighting, precise messiness arranging, and diesel fuel."
On Donald Glover's new Childish Gambino album: 
"I have heard it. I think it's terrific. And I want my shirt back from the album cover."
On Abed (Danny Pudi): 
"With Troy leaving (Donald), it gives a ton for the incredible, amazing Danny Pudi (Abed) to deal with. Danny should have been nominated for 10 Emmys already."
The craziest thing to happen to him: 
"Finding $20 in an old pair of slacks."