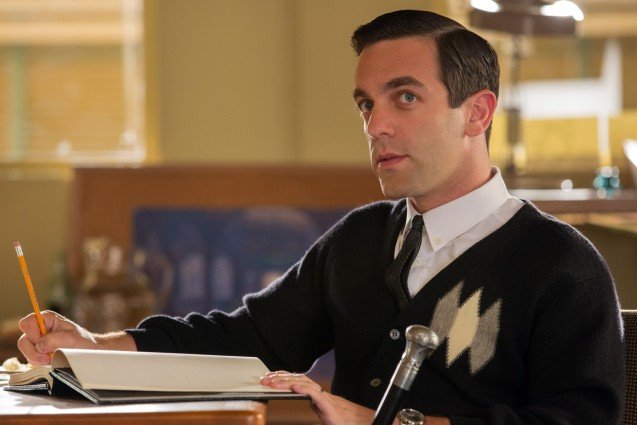 Walt Disney via Everett Collection
B.J. Novak hasn't been resting on his laurels since Dunder Mifflin closed up shop last year. The Office writer and star was seen this winter in Saving Mr. Banks as a composer trying anything to impress P.L. Travers. And now he's making the rounds with his new book of short fiction, One More Thing: Stories and Other Stories. On Feb. 6, he took to Reddit to to talk about his past and future projects and, predictably, answer lots of questions about his best friend, Mindy Kaling. Here are the highlights (unfortunately, Novak veered away from most questions about The Amazing Spider-Man 2):
On going to high school with one of his Office co-stars (John Krasinski):
"I sometimes think that if I were to wake up and it turned out The Office was all a dream, the fact that John Krasinski was in it with me would be what I'd realize afterward should have been the obvious tip-off. 'Oh! And John Krasinski was in it, too! But they called him Jim! And there was a beet farmer... Whoa, so weird.'"
On the future of Ryan Howard's social media empire:
"This is the perfect place to announce that WUPHF has been updated and now links not just to your home phone, cell phone, pager, fax machine, and home phone, but now includes Reddit as well. Wuphf your friends!"
On his B.F.F. on The Office set:
"I was closest with Mindy Kaling, and also least close with Mindy Kaling, on a minute-by-minute basis. And I wouldn't trade it for the world. Actually, I would trade it for the world. What am I talking about: I'd trade it for a more consistently positive relationship with Mindy Kaling. She's the best."
On Mindy's deepest, darkest secret:
"She shot a man in Reno, just to watch him die."
On comedy versus drama:
"One thing I learned from The Office is that the line between funny and dramatic is paper-thin (no pun intended) and often non-existent. If you ground a performance in truth, it can be both as funny and as dramatic as can be. I think no one embodied that lesson better than Steve Carell."
On his Inglourious Basterds experience:
"The only stressful part was when we'd all go out drinking after a day on set, and I'd ask Quentin Tarantino a question, and he'd start to answer, and I'd feel this enormous pressure to remember every single syllable because film history was literally being dictated to my brain, and I was the only witness, and I was two drinks in and feared I wasn't going to remember a sentence that a friend or historian would ask me for someday."
On living with Ryan Howard's frosted tips:
"It horrified people. One of my comedy heroes is Bob Odenkirk, who I idolized from Mr. Show. I ran into him & had a twenty minute conversation before I realized I should mention that my hair was for an arc on The Office. 'Oh,' he smiled. 'I thought you were just a total douchebag actor.'"
On "Ryan started the fire!":
"Late in the run of the series, when we discussed how it all might end, one of many crazy suggestion we batted around was that Ryan burns Dunder-Mifflin to the ground and it turns out he'd been a pyromaniac the whole time. We were pulling a lot of late nights when that got pitched."
On being a voice-work expert:
"My role in The Smurfs and Smurfs 2 was essentially to record a handful of different variations of "Whoooa-ooooa-oaaaa-oa! My muffins!!!" So perhaps I am not the best person to answer this question."
On writing for the boss:
"My favorite character to write for was quite simply Michael Scott. Steve brought such humanity to the role that you could write him to these incredible extremes and he would play them in the most believable ways. Also, he had these beautiful blind spots to his logic that were inimitable. He was almost brilliant in the ways he could be foolish: he walked this incredible blurred line between the two."
On workshopping One More Thing like a stand-up:
"I'm terrified of boring people with my writing, or of being pretentious or just wasting anyone's time...The best advantage I had was the ability to get people to come to a theater and see my work in progress, which was something I knew from standup. So, I read the stories. I knew when one wasn't working, and when one was, and why, and when. Audiences can't lie. Polite laughter sounds very different from real laughter, and genuine interest looks really different from fake interest."