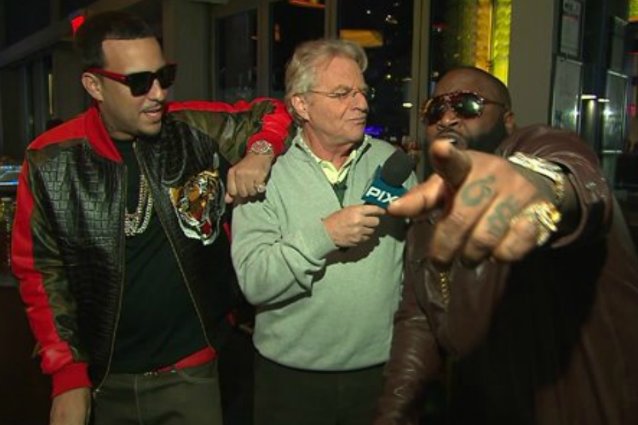 MoneyStacksMatt/YouTube
There were so many awesome videos going around for Super Bowl XLVIII, you might have missed one of the most awesome ones ever. In case you were curious as to what Jerry Springer (yes, the "Jerry! Jerry! Jerry!" Jerry) has been up to, he's been reporting for WPIX news and getting kind of drunk while interviewing Rick Ross and French Montana. True story:
So in case you're still unclear as to what you just watched, that was Jerry Springer of the Jerry Springer Show kicking it old school in a bar, with "the two greatest rappers of them all" (because that's what he called them), Ricky Rozay and French Montana (whom we shall now refer to as "Frenchie" from here on out). That bit about the Timex watch? Epic. And yes, Jerry. You should definitely consider a rapping career.
While we don't recommend getting... um... turnt up on the job, we have to appreciate that this moment was, indeed, brought to us by alcohol. And for that, we thank alcohol. And highly advise you to enjoy responsibly, as Jerry Springer clearly did. Also important to note, the Jerry Springer Show still exists! And yes, it is exactly the way you remember it:
That pregnant girl twerking? That was real. And, thusly, Jerry Springer remains the King of trash TV. Someone's gotta hold the title.