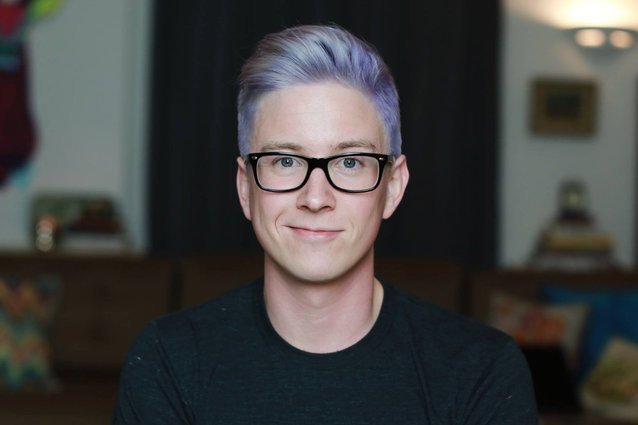 Tyler Oakley/Facebook
So exhaustingly all-encompassing is social media that certain folks are actually beginning to explore new platforms tailored more specifically to their needs. Beamly, for instance, is a social media platform built with a pop culture (TV, in particular) brain as its model. The new app, which launches today, is designed to help users hone in on the stars and television shows they love, offering the opportunity to follow, learn about, talk about, and interact with them. Beamly has over 100 TV and pop culture icons on board with the big launch, including Kandi Burruss of Real Housewives of Atlanta (she says all of us Gladiators can meet her in the Scandal TV Room), and YouTube sensations like Tyler Oakley, Sawyer Hartman and Kalel Cullen. Tyler Oakley first started rocking the viral world when his tongue-in-cheek video about the problematics of gay marriage opposition became a huge hit. Three hundred videos and over four million YouTube subscribers later, Oakley is working with Beamly to bring us this exciting new app, and even made some time to share details about the project with Hollywood.com in an exclusive interview.
First off, I was watching your "100 Things That Happened in 2013" video and that was such an amazing recap! How's your 2014 looking, in comparison to last year?
Thanks! 2013 was an amazing year for me, but so far 2014 hasn't been too shabby either. I raised half a million dollars for a charity for my birthday, advised President Barack Obama on social media strategy, and got to attend the MTV Movie Awards. Not too bad so far. 
Before we get into Beamly, I'd love to hear your take on your own position right now, for people who may not quite get it. What does it take to become a YouTube sensation? How would you explain your job to others?
Basically, I just try to live my most adventurous life, and then come back to my computer and share it with my audience. I never thought of YouTube as a career, but after college I decided to leave my job and try it full time. At the end of the day I am just a guy, living his dream.
What can you tell us about the Beamly app? I'm especially curious to know how it's different from Twitter in terms of fan interaction.
What I like about Beamly is it allows me to connect with my viewers around TV shows that we're passionate about. With Twitter, everything is happening at once. Beamly helps you filter out the noise so you can really dig in with the particular show you are interested in. 
Now, I'm a total Scandal freak... like to a creepy degree. How will Beamly help me get closer to my favorite Gladiators? And by "closer" I mean, like, "in the CIA office with Jake, making out with him."
Beamly allows you to give your point of view on something happening in a show, or weigh in and discuss a particular character. I don't know if it will help you make out with Jake, but it certainly allows you to talk at length with other super fans about his every detail.
Do you have a favorite feature on Beamly?
Just being able to actually have conversations with my people all about our favorite TV shows.  Sometimes it's a bit one-sided, but on Beamly, I can actually discuss.
What's next for you in the coming months? Any big events that we should know about?
I like to have realistic dreams, so obviously next is world domination.