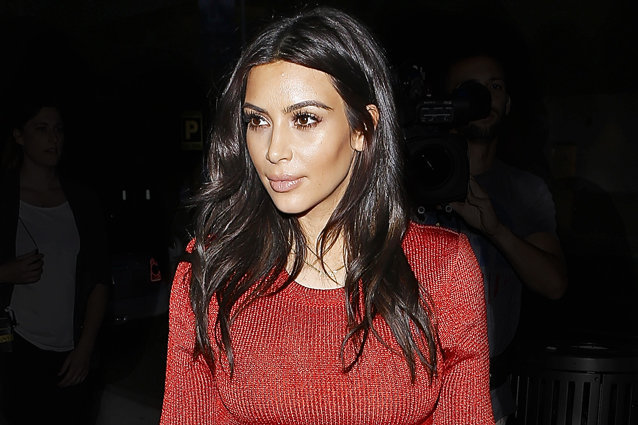 WENN
When it comes to Kim Kardashian, everyone considers him or herself an expert. And why shouldn't we? She leads a very public lifestyle, and her personal reputation and career have been built on baring it all for the world. Still, there's plenty that people assume about the reality star that simply is not accurate. And hey, even if you don't like her, you can at least get the facts straight. Here are five common misconceptions about Kimberly Noel Kardashian.

1. She Was a Porn Star
People love to call Kim a "porn star." Well, no. That's not true. Kim was dating Ray J back in the day (a fact he's since tried to make a comeback career out of), and the young couple decided to make a sex tape. Whether they both went into it with the intention of selling the video and getting rich is another question, but she was in a committed relationship with him when it happened. The video was not professionally made -- it was grainy, had the shaky camera thing going, and -- from what we've heard -- wasn't all that exciting (just like a real home sex video). Repeat: Kim Kardashian has never made a porno, is not famous for being a porn star. If all it took was a single video, we'd have a lot more people with sex tapes dominating reality TV and running empires.

2. She Contributes Nothing to the World
Kim may not have the Beyoncé talent, but she has the Beyoncé work ethic. Kim puts in work, and it's work that has gone on to benefit every member of her immediate family, as well as a number of worthy charities. In this clip from Keeping Up with the Kardashians she gets into a fight with Kourtney (that turns into a fight between Kourtney and Jonathan) over an appearance that Kourtney did not want to make. Whether people value her work or not, Jonathan was right to say that Kim works every day, all year round.
3. She's a Bad Mother
If you think Kim is only concerned with looking perfect all of the time and is totally fake half of the time, then you haven't seen the video of her leaking breastmilk through her nursing pads. Not only did she share this truly intimate moment on her show, she laughed off her siblings practically gagging over the scene. Because, when you're a true mom, leaky nipples are just a part of the game.
4. Her Relationship Is All for Show
Because of the Kris Humphries situation, people have always been suspicious of Kanye West and Kim. Two things work against the theory that these two are just together for the attention. First off, there's every Kanye West song in which he obsessively references Kim and proclaims his love for her. He's even rapped about dealing with his developing feelings while she was still with Kris. And then there's the effect the relationship has had on her reality show. The breastmilk leak was such a big deal partly because we hadn't even seen Nori yet! And although Kanye has appeared on Keeping Up With The Kardashians, they were rare appearances where little was revealed about their relationship. Being with Kanye has actually changed Kim in that she has had to curb her sharing (and her mom has surely had to deal Kanye's desire for more privacy as well). Watching Kim and Kanye do things neither has ever publicly done in a relationship suggests that there is something legit there.

5.  She Got Pregnant Just for the Publicity and Attention
Kim was actually not that thrilled about the idea of a baby shower. She was tired of the negative press (like that TMZ story about the alleged baby shower invites), and even asked that instead of registry gifts, friends and family donate to the Lurie Children's Hospital in Chicago. While she did end up having a baby shower, it was a fairly low-key event that her family put on for her. Looking at Kim and the terrible time the press gave her (and the health issues she had to deal with too), it's not difficult to believe that she was just over the whole thing and ready for Nori to arrive.
Now, you are all free to continue loathing, despising, or being totally indifferent to Kim Kardashian. Or loving her! As long as you're well-informed.