No celebrity's outfit is complete without the right fragrance to entrance and entice! More often than not, these days that celeb's probably wearing a perfume that has her name on it. Now, designing a perfume is a lot like picking out the perfect dress for a red carpet event—the bottle must be eye-catching, it must define the star's brand, and must perfectly match her Manolos. Let's take a whiff of the most intoxicating celebrity perfumes out there!.
Click Below to See the Entire Gallery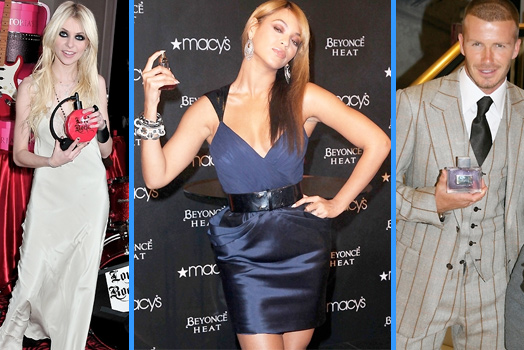 ABOUT KATE DURBIN:
Kate Durbin is a Los Angeles-based writer, performer, and fashion artist. She is the author of The Ravenous Audience (Black Goat/Akashic, 2009), Fragments Found in a 1937 Aviator's Boot (Dancing Girl Press, 2009), and Kept Women (Insert Press, forthcoming). She is founding editor of the project Gaga Stigmata: Critical Writings and Art About Lady Gaga, which has been featured by Salon.com and The Huffington Post, among others. Her fashion essay, .