Every celebrity, no matter how fashion conscious, is due for a fashion flub now and then. We forgive them because they are human after all (or so we hear). But there are flubs and then there are fashion nightmares so scary that they make our eyes pop and our jaws drop. From ill-fitting dresses to accidental panty-flashes to extra-orange bottle tans, the ways a celeb can get it horrifyingly wrong are endless. Let's check out some of the most frightening looks to ever disgrace the red carpet. And watch out! Some of these styles might make you scream in bad couture terror.
Click Below to See the Entire Gallery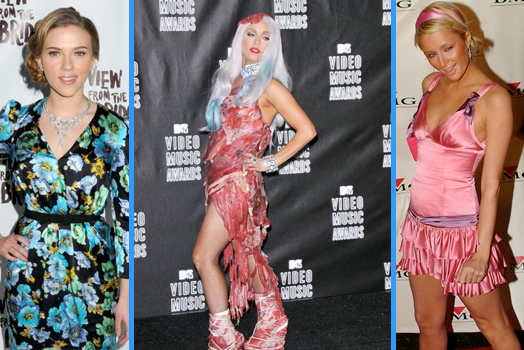 ABOUT KATE DURBIN:
Kate Durbin is a Los Angeles-based writer, performer, and fashion artist. She is the author of The Ravenous Audience (Black Goat/Akashic, 2009), Fragments Found in a 1937 Aviator's Boot (Dancing Girl Press, 2009), and Kept Women (Insert Press, forthcoming). She is founding editor of the project Gaga Stigmata: Critical Writings and Art About Lady Gaga, which has been featured by Salon.com and The Huffington Post, among others. Her fashion essay, .