It's that spooky time of year again, when celebrities take full advantage of the fact that everyone else will be dressing like them, so they can dress like…pickles? Yes, you read that right—Snooki was a pickle princess this year, while Holly Madison was yet another Disney princess. Heidi Klum was a scarily convincing Transformer. We're not sure what's creepier—being that famous or that purple. And so, without further adieu, Hollywood.com gives you (cue creepy organ music)…Celebuween!
Click Below to See the Entire Gallery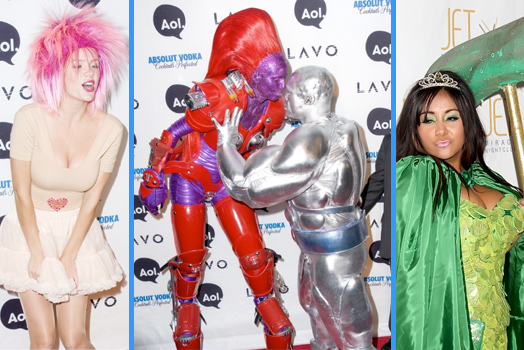 ABOUT KATE DURBIN:
Kate Durbin is a Los Angeles-based writer, performer, and fashion artist. She is the author of The Ravenous Audience (Black Goat/Akashic, 2009), Fragments Found in a 1937 Aviator's Boot (Dancing Girl Press, 2009), and Kept Women (Insert Press, forthcoming). She is founding editor of the project Gaga Stigmata: Critical Writings and Art About Lady Gaga, which has been featured by Salon.com and The Huffington Post, among others. Her fashion essay, .