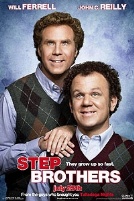 As I rang in the New Year, I came to the realization that there was something missing from my life. No, not exercise, or love, or even friendships. No, I realized that if there's one thing I really need in my life it's this: a rap album by Will Ferrell and John C. Reilly from their Step Brothers hip-hop label, Prestige Worldwide. And now, only five days into 2011, my prayers have been answered.
Yesterday, Step Brothers director Adam McKay tweeted, "Are we currently working on a Step Bros rap album? Yup." And before we could laugh at the silliness of the claim, he promised he wasn't lying. "I wasn't kidding about Step Bros rap album. And we just found out we have a crazy big time producer. Mos Def, you up for a guest flow?"
Considering that Ferrell and Reilly's hilarious Bing Crosby/David Bowie impression video from a month ago already has almost 1.5 million views on on FunnyorDie.com, there is no doubt this concept would have success. There's no confirmation yet from Ferrell, Reilly, or that "big time producer," but let's be real here. We don't care what happens, just as long as we get a Part II to "Boats and Hoes."
Source: The Wrap